Best DIY Tablet Mounts for tech savvies – Tablets have become personal favorites of everyone. Each and every person wants to own one and wants to flaunt it. Some people just want to show off while others are really serious about it. They use it in each and every activity literally making themselves dependent on it. They use it even on the beds. An estimated 69% of the techies in America take their iPads to bed. The biggest problem they face is they have to place it on their chest and literally get neck cramps. The angled screen becomes difficult to watch. Facing some of such similar problems, some techies have developed some mounts in which they will solve these problems. This article will give you an insight into these arms:
Microsoft Surface Tablet Features and Price in India
Best Apps to use your Android Phone as a Remote Tablet
Swing arm: This design from Tom Gourmand is made of wood of approximate 1". It allows movements to hold the tablet. The simple ball and socket joint movement is very easy for movements, but it is a bit costly. There are other designs too with the built-in charging cable, but it is much better if there is an alternative to the screwing of the arm to the wall.
Swivel arm: A very little Diy has been used over here. Designed by roey leon, it has the independence to be moved to a variety of positions. The design is very simple which has an iPad mount fixed to an old drafting table lighting fixture which is fixed to the wall. Designs are okay, but if there is an old lighting fixture in my house then I would go for it, but buying a new one will surely be costly. And moreover, the iPad mount will be new which will not look good with the old fixture. And I would go far an alternative rather than making holes in the wall.
Headboard Boom: This design was developed from eHandyMan. It extends over the headboard and slants down. All the fixtures are tightly made so there are minimum chances for the device to fall down. It is 100% DIY based and no extra tablet mount is required and it is the least costly among all the designs. It is completely made of wood.
Headboard Easel: The design is the same as the upper one but it is a bit complex or it can be said as the higher version. It was inspired by an artist's easel and was designed by Eduino77. It is fixed to the headboard hence no need to punch holes in the wall. The design is quite nice, but it does move to wide angles.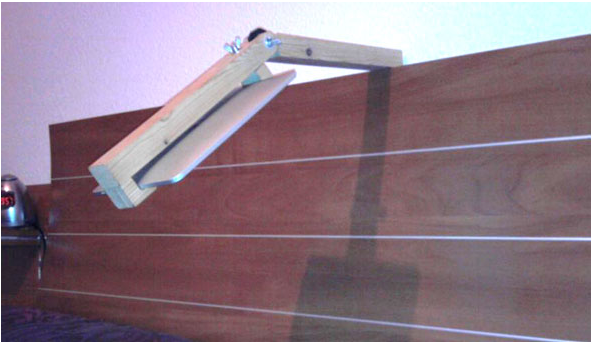 Hybrid: Now this is a design that is available to be bought from Amazon.com for around 12 pounds. This is a design that combines all the features of the above mentioned and mounts and probably the best but heavy on pockets.