As much as the new technologies have helped us in many ways in our professional and private lives, probably all of us share at least a few experiences when we wanted to kill our computers. We've become so accustomed to having tech tools finish a lot of our daily tasks, that it is now very frustrating when something that should be done quickly and smoothly starts creating problems and wasting our time.
One of the examples that many people can relate to is the problem of editing PDFs. They are excellent for sending and sharing, but they are famous for their rigid format that is difficult to tamper with.
Recommended: Surf, Browse with Great Speed on PC on Slow Internet Connection
To continue the trend of using technology to boost our productivity, and not hinder it, people should be informed about what tools are available to them for every problematic situation. So, if a user needs to work with data locked in PDF, the best way to do that is to convert PDF data into some editable format, which is a very quick process with appropriate tools. One good example of a powerful converter is Able2Extract, especially for users who want to convert from PDF to Excel, because this is the tool's most advanced feature.
Of course, a variety of users can benefit from Able2Extract because it can also convert to PDF to Word, PowerPoint, Publisher, OpenOffice, AutoCAD, HTML, Images and Text. For more demanding users who work with scanned documents a lot there is a professional version of the software that also includes OCR technology, allowing users to smoothly convert scanned PDFs as well.
Now, here's the part that probably interests readers the most: how to use this PDF converter? Luckily, the conversion process is as straightforward and easy as possible, with only a few tabs to click.
Alter PDF in Microsoft Word
1) First Open the file for conversion in the tool's File menu.
2) Select All or Area: the first option is for converting the whole document, and the second option is for extracting a part of the document and converting only that part.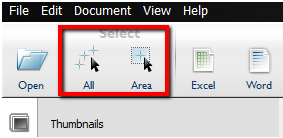 3) Click on the format you want to convert to. For example, Word.

4) Save your converted editable file to any location on your computer.
Converting to Word and PowerPoint are the easiest options. Converting to some other formats such as Excel, AutoCAD or Images will prompt you to go through a few more steps in order to customize your document according to your preferences.
Must Read: Top 5 Tools, Online Services to Edit PDF Documents to Publish
Extract Text and Images from Scanned PDFs into Fully Editable Word
For users who are interested in digitizing paper documents and turning them into fully editable electronic files using the advanced OCR technology, here's a step-by-step guide to converting scanned PDFs with Able2Extract PDF Converter. To get both textual and image data in a Word file in the quickest way, follow the steps below:
1) Open a PDF document.
2) Go to the page where the image is.
3) Click on Edit ? Take Snapshot in the Menu bar.

4) Select the image on that page by clicking on the upper left corner of the picture, then hold the left mouse button, drag to bottom right corner and then release the button. This way you've placed the image in the clipboard and you'll receive the following message: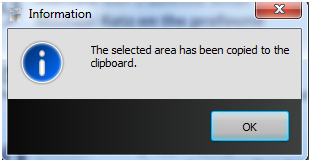 5) Click OK.
6) Now convert to Word as we already explained in the above tutorial.
7) When the converted Word document appears, paste the image from the clipboard to your document.
So, now you've successfully converted a scanned document that contains both text and images into an editable format.
Users who like what they've seen can download Able2Extract from below given link and use it for seven days free of charge to test every conversion feature and maybe discover some other options that haven't been revealed here.