Adding Websites to Links Toolbar on Windows 8 Taskbar could lessen a substantial amount of effort you have to apply on your PC to launch your favorite website or webpage in the browser. When you open your favorite website from Links toolbar on Windows 8 Taskbar you have to simply click on the Links and afterward on the website name which you want to open. But, When you want to open a website in your web browser on PC you have to double click on the browser icon, wait until the browser loads completely, type the web address of that website and click on arrow mark on the address bar of the browser or hit the enter button on Keyboard and finally wait until the webpage loads. Whereas the website opens directly in default browser on PC from Links. In this way, you can launch a website quicker using Links toolbar on Windows 8 Taskbar.
Recommended: Make F8 Key Working to Boot Windows 8 into Safe Mode Easily
Windows 8 taskbar executes many features using which geeks could run PC more comfortably. You could add different toolbars to windows 8 taskbar as address, Quick Launch, and if you want you can add more toolbar clicking on New Toolbar. But, here we will discuss on Links Toolbar. To see tips on how to Add Website Links to Toolbar on Windows 8 Taskbar.
1. Right Click anywhere on Windows 8 Taskbar.
2. On the uppermost part of the menu, you find Toolbar making a submenu in a downward side. Click on Links written on Submenu.
3. At the same time, a toolbar Links starts showing on Taskbar. In this way, you have added Links Toolbar on Windows 8 Taskbar.

4. Launch the website which you want to add to Links Toolbar in any browser. Drag the icon lying before the URL in the address bar of browser with mouse to Links Toolbar on the taskbar.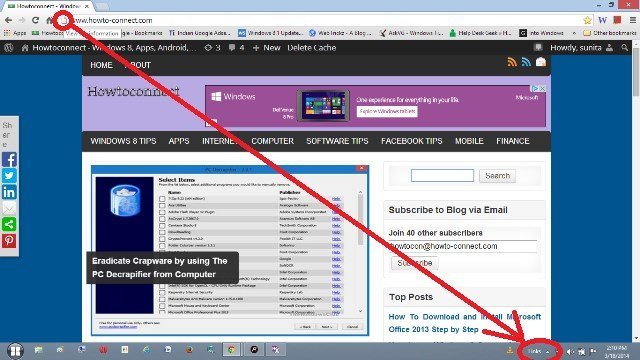 So you have added the website link to the toolbar. You can see it by clicking the arrow just next to Links. It shows the website name.
When you click on this website name the website opens directly in default browser you have made for your PC. Right in this manner, you can add more websites and webpages to Links toolbar. After adding multiple websites to Links toolbar shows all the website and webpage names in a stacked way. From here you can launch any web page directly after clicking on the respective names.
Different Options on Links Toolbar:
Delete: You can remove any website from Links Toolbar by right-clicking on the respective name and clicking on Delete.
Print: You can print the page from here. To print right-click on the website name and click on Print. It will send the copies to printer.
Send To: Send this page anywhere on your PC through clicking on Send To and opting for the place where you want to send to.
Rename: Write an alternate name after clicking on Rename and see properties by clicking on properties.
Note: On my PC, Chrome is the default browser so all links are being shown in Chrome.
Adding Links Toolbar will increase working speed on your PC. I hope, Windows 8 Taskbar may also help you to run your PC with more authority and even with perfection.