With a view to Allow or Block F12 Developer Tool On Edge Browser, Group Policy Editor includes a policy setting. This policy setting gives you a chance to decide whether the browser will serve the F12 tool. You can disable it from here very easily by only clicking on a round box.
You know Microsoft edge has an option on the 'Settings and more' pane that open the development environment. This feature is used to see the coding and elements of an application or webpage moreover, debugging. We have written another article on this topic How to Find Hidden Developer Menu in Microsoft Edge.
The Developer Tool (DevTools), displays a list of debugging and authoring mode inbuilt for all the modern browsers. Users can make changes in the Edge browser or application's elements from here. Any changes made by mistake in the developer tools section may lead to any sort of disruption in the browser. Therefore, many of us prefer to block it.
But it is not the case that after blocking it once then it will not start working again. You can allow again whenever you wish to meddle with it.
So, it solely depends upon you to use this or not.
Allow or Block F12 Developer Tool On Microsoft Edge
Step 1 – Put in gpedit.msc in the Cortana search field or in the Run box press Enter. This immediately opens the Group Editor Policy.
Step 2 – In the Editor window, find the Microsoft Edge folder. Navigate to the folder by following the below path.
User Configuration > Administrative Templates > Windows Components > Microsoft Edge
Step 3 – In the Microsoft Edge folder, many settings are visible on the right part of the screen. Out of all the options, double-click on Allow Developer Tools setting.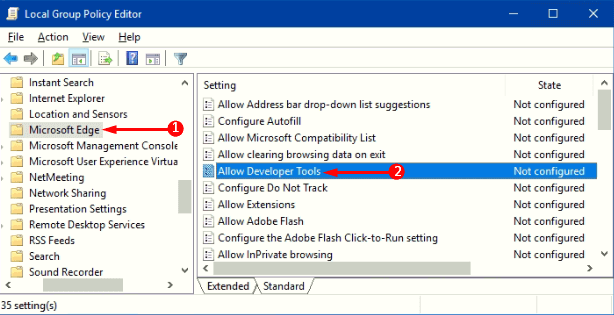 Step 4 – This opens a new window of Allow Developer Tools.
This page holds three options: Not Configured, Enabled, and Disable.
To block F12 Developer Tool in Edge browser, hit the button adjacent to the Disabled option.
To allow F12 Developer Tool in Edge browser, hit the button adjacent to the Enabled option.
Click on the Apply and OK buttons to register your choice.
Restart the Edge browser to apply your choice in order to finish the task.
Finalizing
If you are a development professional then obviously the tool will remain in enabled state. But at certain times, you need to Block F12 Developer Tool On Edge Browser so that other users can't tamper or work in the environment. So you get an option with these settings to protect your browser from others preventing them from viewing.