Armoury Crate is a built-in software portal in most of the Asus PCs to display real-time performance and settings information for connected devices. The application provides a platform to change system profiles, lighting settings, and other device configurations on all supported connected devices. However several users are getting a problem with this software as a message ArmouryCrate.UserSessionHelper.exe – Application Error frequently appears. The full message is "ArmouryCrate.UserSessionHelper.exe – Application Error. The instruction at 0x0000000000000000 referenced memory at 0x0000000000000000. The memory could not be written. Click on 0K to terminate the program".
ArmouryCrate.UserSessionHelper.exe – Application Error might occur due to outdated software version or usage of resources by the process running in the background. Sometimes, user profile of this app also eats more resources and triggers the error code. This exe error indicates that the file badly affects memory Let's see how can we deal with this problem:
ArmouryCrate.UserSessionHelper.exe – Application Error
Here is how to fix ArmouryCrate.UserSessionHelper.exe Application Error in Windows:
Update the program
The first and foremost cause of this issue is the outdated Armoury Crate program which may be consuming high system resources as CPU and Memory. Updating the software might be the quickest and easiest solution so follow the steps:
Launch ArmouryCrate.
Click on Settings cog and select Update Center.
Select Check for updates.
Then, click on Update all.
Restart your system to complete the update.
If the software is installed via "Store" then click on Start and select Microsoft Store.
Click on the Library icon from the left sidebar.
Go to the right panel, and select Get updates.
This will update all the applications downloaded from Store including Armoury Crate.
Restart your system and see if all is well now.
Disable Background Apps Permission for Armoury Crate
Armoury Crate, when running in the background, involves a huge amount of resources affecting the memory of computer. ArmouryCrate.UserSessionHelper.exe – Application Error is the result of this activity. Windows 11 and 10 provide options to disable any program running in the background. Use that for Armoury Crate by following steps:
Press Windows and I.
Select Apps.
Navigate to the right and click on "Installed apps".
Find Armoury Crate in the list and click on 3-dots > Advanced options.
Background Apps Permission can be seen on the next Settings page. Click on the drop-down for "Let this app run in the background" and select Never.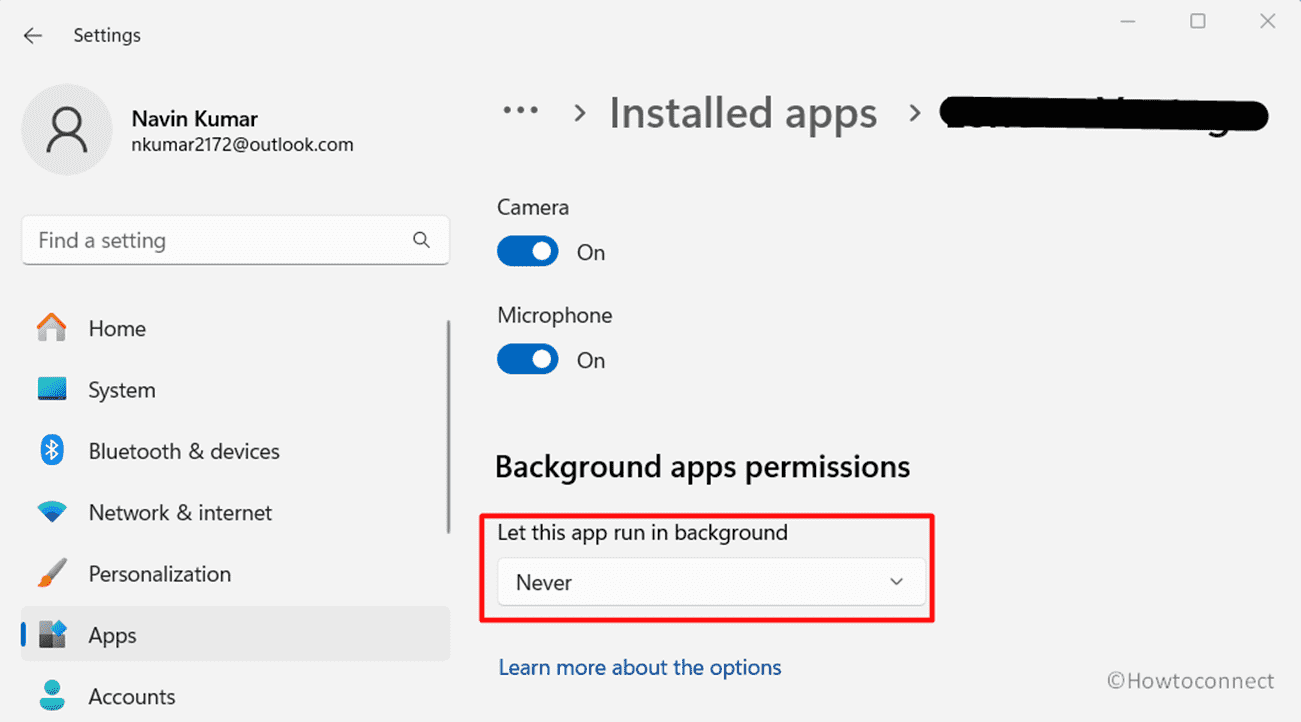 Rename ArmouryCrate.UserSessionHelper
ArmouryCrate.UserSessionHelper file is responsible for displaying the error message you encountering on your Windows 11 or 10. Renaming this file works as a trick to stop the pop-up and minimize the usage of resources. So give this a try:
Press Wnkey + I.
On the File Explorer, go to C:\Program Files\ASUS\ARMOURY CRATE Service.
Locate ArmouryCrate.UserSessionHelper in the folder.
Rename this file to you_ArmouryCrate.UserSessionHelper (or some other).
If permission is required give it and close File Explorer.
Reboot the computer and see if error message no longer appears.
Log out from Armoury Crate
Since ArmouryCrate.UserSessionHelper is creating there is possibility that the application starts trying to sync with other application profiles. This process normally results in high CPU and memory usage. Signing out from Armoury Crate might help you:
Open the Armoury Crate application.
Click on User icon from the top left part and click on Sign out or Log out whichever is showing.
Restart the system and see if ArmouryCrate.UserSessionHelper.exe Application error is fixed.
Reset the application
Incorrect configurations or corrupted user profiles might also cause ArmouryCrate.UserSessionHelper.exe application error to occur. Using Windows 11 or 10 default settings you can reset this program to get rid of this trouble. Follow the steps:
Click on Start and select Settings.
Go to Apps > Installed apps.
Scroll down to Armoury Crate.
Click on ellipsis (3 dots) and select Advanced options.
Move down in the next Settings page and click on Reset.
Uninstall and Reinstall Armoury Crate
Incorrectly installed programs are liable to produce troubles in Windows and such can also happen with Armoury Crate App. This Asus software which supports and manages your CPU, GPU, and fan presets program can throw the error ArmouryCrate.UserSessionHelper.exe Application error if you have not installed it properly. So follow the guide and uninstall and reinstall this app:
Press Windows + R and type appwiz.cpl.
When the Programs and Features window opens, click on Armoury Crate.
Select Uninstall and confirm the prompt.
After uninstallation is completed, you will have to delete the traces and leftovers of this program. For this, open Revo uninstaller.
Click on Tools from menu bar.
Select Evidence Remover and confirm the process.
This will take 10-20 minutes depending on the amount of traces and leftovers on your computer.
Finally, restart your system and open a browser.
Go to this link and download Armoury Crate.
Run the installer and follow on-screen instructions to complete installation.
Then check if everything is fine.
Methods:
Update the program
Disable Background Apps Permission for Armoury Crate
Rename ArmouryCrate.UserSessionHelper
Log out from Armoury Crate
Reset the application
Uninstall and Reinstall Armoury Crate
That's all!!
Repair any Windows problems such as Blue/Black Screen, DLL, Exe, application, Regisrty error and quickly recover system from issues using
Reimage
.