Art and Crafts is a Windows 8 App to learn different techniques for Kids. The application has various types of art and crafts designs explained step by step. The elders can guide their kids in making the work. The techniques are explained in a very candid way. The techniques are very well displayed with different images of equipment and procedure and a short write up explaining the technique helps the users in accomplishing their crafts. You can see Six different types of art and crafts works in this application. They are
Painted Daisys
Baking Soda Volcano
Erupting Colors
Melting Ice
Patriotic Flowers
Rainbow Bag
Recommended: Kids Advanced Tutor Windows 8 Apps – Perfect Tool to Teach Infants
How to use Art and Crafts Windows 8 App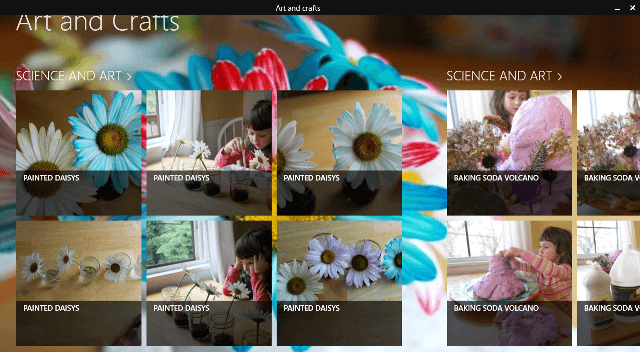 Install the app from Entertainment category of Windows 8 or from the link provided below this post.
After launching the app, you can see different collections of work.
Select any design to learn the technique.
Description of the work is explained.
Materials needed to accomplish the craft are shown.
How to carry the work.
Finish look.
Art and Crafts App Design
Soon after installing the app is very simple. Bright and beautiful colors are depicted and it is very easy to access also.
Art and Crafts Windows 8 App Features
It's a free app
Beautiful art and craft works are shown.
Detail explanation of the techniques.
6 different works are depicted.
Beautiful pictures.
Science related techniques are explained.
Conclusion
Now the little kids can make their own crafting in their home simply by the help of this app. They can get some ideas and it will also help the kids in doing their school projects. The application meets the requirements of teachers and parents also. Interesting feature of this app is that the techniques are explained in a very understandable mode. Everyone can learn art and craft through this app. So, install this app and make your own creations!
Get Art Crafts App