Cozi Family Organizer is a Windows 8 app to arrange your family's program. Plan your weeks or months agenda and put them into the organizer and arrange your things accordingly. The application implements different modes of agenda like Family Calendar, Shopping List, Contacts, To-do lists, Family Journal, Recipe Book, Messages, and Birthdays. Users can access this application from anywhere as it is online based and can share the planning with other family members. You can manage your family work in better way using Cozi Family Organizer app.
Must Read: Ezy Invoice – Best Bill Managing Software for Small Businessmen
How to use Cozi Family Organizer Windows 8 App
1. Install the application from the link provided below this article or own it from Productivity category of Windows store.
2. Create your family id and write your Family Name for others to recognize you.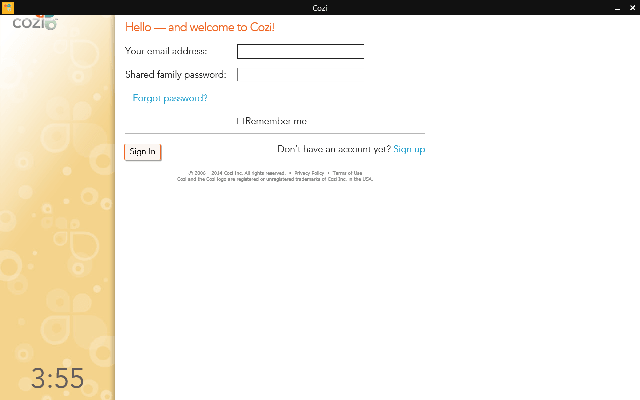 3. Select your required field and enter your planning.
What Cozi does for you? / Cozi Family Organizer App Features
Lets' see what all Cozi brings for you so that you can manage your day-to-day activities.
1. Shared Family Calendar– You can access the family calendar from any computer or mobile device. The functions of Shared Family Calendar are as follows: –
Set reminder on important dates.
Save your appointments.
Create agenda for the next week or month and email it to other family members.
See the independent scheme or of the entire family at the same time in a color coded calendar.
Print blank calendars for templates.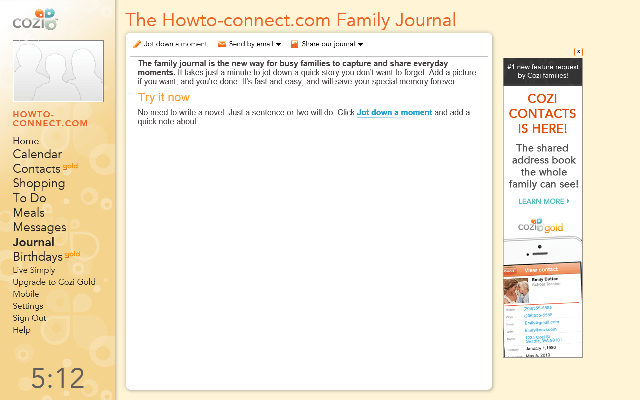 2. Shopping List – Anyone of the family can access the shopping list from wherever they go.
Create your shopping list.
Get your list with you wherever you go in your mobile app.
Add ingredients to your list from any recipe in Cozi Meals recipe box.
Add pre-made supplies and grocery lists from the list library to your account.
3. To do lists – This will manage your tasks that need to be done. This feature will help to keep everyone's tasks in one place.
Create a to do list.
Mark your due date and will appear on your calendar.
Make a pre planning checklist.
To do lists are printable.
Appoint a member of the family to any chore list to carry the work.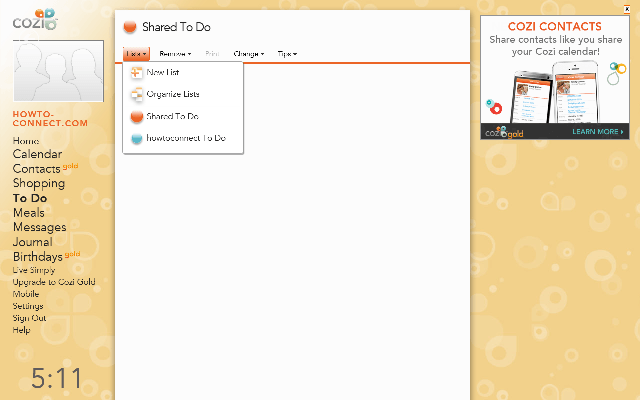 4. Family Journal– This tool will help to jot down all the fun times and memorable days.
Write down your memory and upload a picture.
Share family journals by emails or Facebook.
Everyone in the family can add their bit to it.
Good way to store memories of a holiday, vacations, or family trips.
5. Meal Planner and Recipe Box – Plan a family dinner with this feature.
Store recipes.
Drag and drop recipes.
Plan your dinner.
Add thoughts you have about your dinner to your recipe box.
Create your shopping list from recipes and attach ingredient.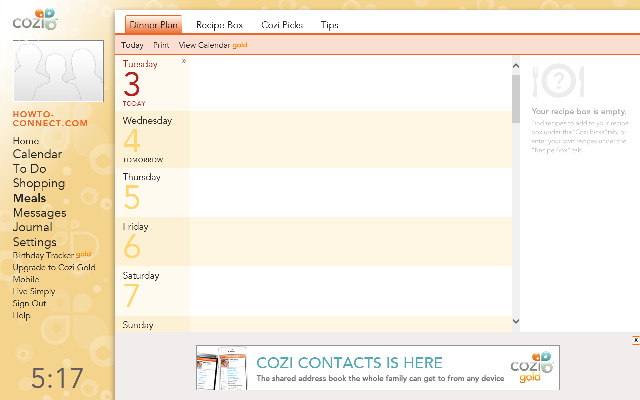 6. Contacts – Keep all contacts in one place.
Everyone can access the same contact list.
Make own list and categorize the contacts as per the list.
Group contact from the same household.
7. Birthdays – Save the birthdays of your and dear ones.
Save all important birthdays.
Choose three reminders to keep the birthday on your memory.
Recommended: Difference Garden Midnight Windows 8 App – Enjoy Puzzle Improve visual Skill
Cozi Family Organizer Windows 8 Design
Interface of this application is very nice. It is designed in a way so that you can easily access. You will find Planning for each and every day in this application. The different agendas are displayed on the left side of the application page and the details of each tool can be viewed at the center of the page.
Conclusion
Cozi Family Organizer had already simplified many families' work. Parents and teachers can keep their day-to-day activities in record or help their family in their respected works. This is the most appreciated app. Install this application and gets yourself free from your packed and tense life!