However, Windows 10 is a great operating system but unfortunately, you have to encounter an issue like Atiadlxx.dll error sometimes. "Atiadlxx.dll" is a type of DLL file corresponding to ADL Component. It was first developed by Advanced Micro Devices, Inc. in order to support Windows OS. Usually, the bad configuration in system files is the root cause of this problem. Most of the time, these errors are more likely to occur at the time of startup, start of a program and when users attempt to use a specific function like printing.
Dynamic Link Library in short DLL files is small programs similar to EXE files. Atiadlxx.dll is included in the same family. The purpose of these files is to allow multiple software programs to share the same functionality. Windows and its compatible software, moreover vendors, use Atiadlxx.dll as a general format. This can appear in the form of a technical description. Sometimes, as a numeric error number too. In some cases, Atiadlxx.dll Windows 10 Error can contain more parameters in its format. At the time of the problem, some additional hexadecimal code has the address of the memory locations where the system loads instructions.
How to Fix Atiadlxx.dll Windows 10 Error
Nature and Causes of Atiadlxx.dll error windows 10
Usually, damaged windows system files are responsible for the Update Atiadlxx.dll Windows 10 Error. Corruption in the system files entries may threaten the well-functionality of a computer. Additionally, various events can cause this error to occur. Let's have a look at the causes:
a) Corrupted entries related to atiadlxx.dll in the registry.
b) Malfunction or faulty hardware system.
c) If the latest update of atiadlxx.dll file overwrites the old one.
d) When one program uninstalls a dissimilar program using atiadlxx.dll files.
e) Infection of atiadlxx.dll files due to malicious invaders like spyware, Trojans as well as other malware.
These activities are responsible for corruption as well as a deletion of entries in windows system files. There is information in the system files that help usually for well functioning of an application. Due to the corruption, information in the system files goes missing and throws the Update Atiadlxx.dll error windows 10.
This error evolves following messages:
"The application has failed to start because atiadlxx.dll was not found. Re-installing the application may fix this problem"
"Failed to load library 'atiadlxx.dll'"
"The program can't start because atiadlxx.dll is missing from your computer. Try reinstalling the program to fix this problem"
"Atiadlxx.dll failed. The specified module could not be found."
"File not found: atiadlxx.dll"
"Access violation in module 'atiadlxx.dll'"
"Component 'atiadlxx.dll' or one of its dependencies not correctly registered a file is missing or invalid."
Atiadlxx.dll Windows 10 Error Solutions
Remember; do not download DLL files from its websites. These may contain malicious codes which can lead to further damage to your computer. These websites are not actually verified by developers. However, we can fix Atiadlxx.dll Windows 10 Error by following methods. Let's start:
Solution-1: Register Atiadlxx.dll files manually
A dependency is generated in the case a program uses DLL function in any different DLL. Since no program is at all dependent, problems occur if the DLL is damaged or broken. We can fix this use by using Re-register option. To do so, the steps are:
Step-1: Depress Start button from your computer type cmd. Put a right click on the result and select Run as administrator.
Step-2: Confirm UAC prompt by clicking YES and allow the Command prompt to appear. Type regsvr32 /u atiadlxx.dll in the black field and press Enter. It will unregister the atiadlxx.dll file.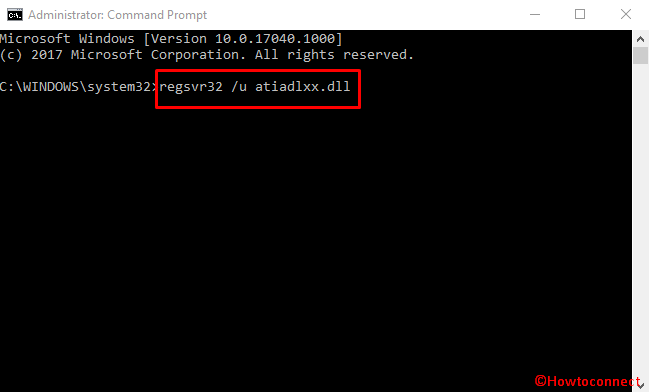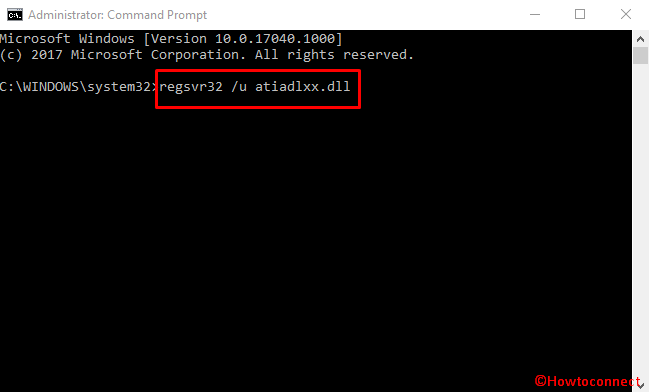 Step-3: Proceeding forward, type regsvr32 /i atiadlxx.dll in the Command Prompt as well as hit on the Enter key. This will re-register atiadlxx.dll file again.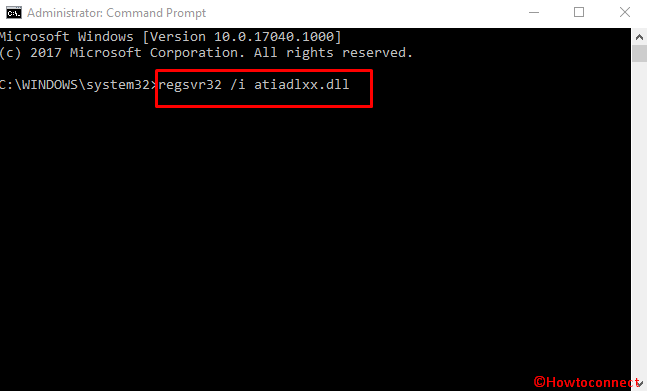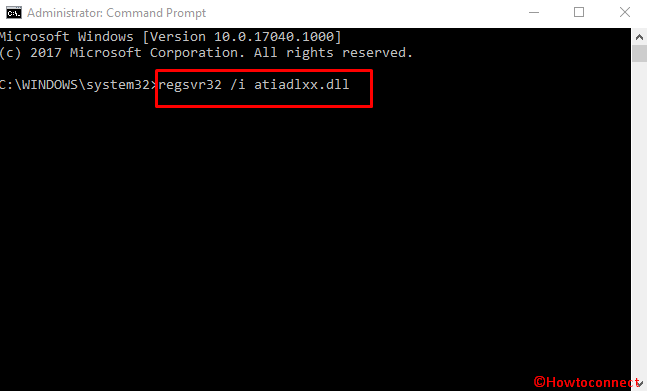 Step-4: Restart the software in order to check either the error is resolved or not.
Solution-2: Use system file checker in order to remove corrupted files:
Windows 10 operating system has a default utility in order to scan and replace the corrupted files from the computer. Moreover, if a "protected" file is found to be missing, this feature will restore it from cache so that windows can work properly. You can follow the below steps to accomplish this.
Step-1: Open the Start menu from your computer and type cmd. Perform a right click on the item under Best match and select Run as administrator.
Step-2: Confirm UAC prompt to allow the command prompt to appear.
Step-3: Type sfc /scannow in the black space of Command Prompt. Press Enter.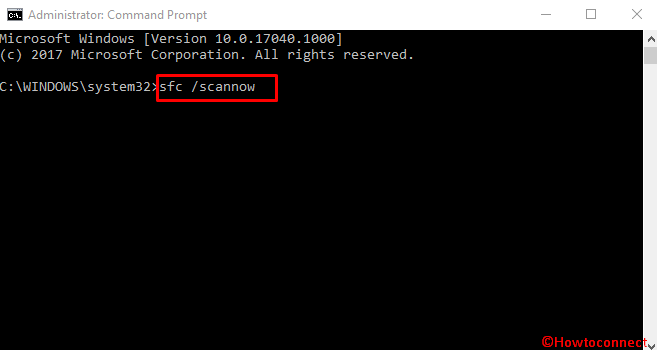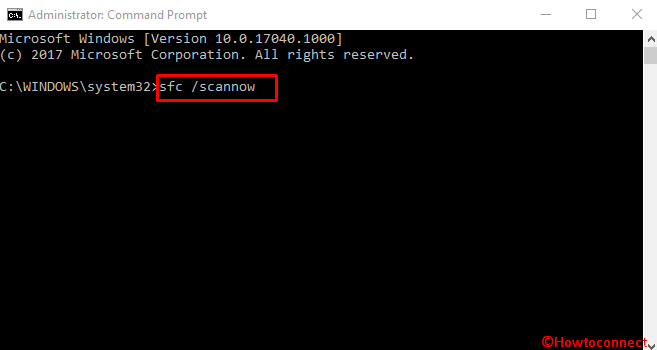 Step-3: Your System files will be checked thoroughly by System File Checker. This process will take a longer period of time. Be patient and wait for the scan to finish and reboot after it ends.
Solution-3: Scan for Virus:
As we have already known that Malware infection is one of the most the most obnoxious causes of Atiadlxx.dll error windows 10. Threats get in the computer system and change settings and corrupt the files. So scanning for virus of the whole system being in safe mode is necessary.
Step-1: Restart the computer in Safe Mode.
Step-2: Launch the recommended anti-malware tool from your PC and run a full scan.
Step-3: Upon the scan result comes, the tool will prompt for your permission to delete or quarantine the threats. Confirm deletion.
Restart your system and check whether Atiadlxx.dll Windows 10 Error is fixed.
Solution-4: Search the deleted atiadlxx.dll file
When the system doesn't find an atiadlxx.dll file, it shows an error message. In order to resolve the error, you need to search the missing or deleted files. To do so, the steps are:
Step-1: Execute a double-click on the Recycle Bin icon from your desktop and open it.
Step-2: Perform a keen search here in order to find any atiadlxx.dll file.
Step-3: If you find, make a right click on the file and from the list of options, select Restore.
Solution-5: Repairing corrupted Windows Registry
Registry editor usually accumulates entire information including software configuration. An annoying registry is one of the possible causes of Atiadlxx.dll Windows 10 Error. This can be changed due to malware attack or software installation and uninstallation process. We don't recommend the manual registry to the persons who are not experts. You can seek help from experts. Or else you can use some authorized software in this case. You can follow the instructions here in this concern How to Use Black Bird Registry Cleaner on Windows.
Conclusion
Misconfiguration of the system files is the prominent cause for Atiadlxx.dll Windows 10 Error. This is a nagging error in every case. We need to fix this as soon as we come across. In the above description, we came to know about the way to fix this. Hope you can resolve this issue by following these steps properly.
Repair any Windows problems such as Blue/Black Screen, DLL, Exe, application, Regisrty error and quickly recover system from issues using
Reimage
.