Just like other famous email services, Mail app also gives you a provision to Auto Open Next Item in Windows 10 OS. Auto Open Next Item is one of the reading settings in the Mail app. This setting indicates what you prefer to do when you move or delete an open email. Read another setting of this app – How to Display or Hide Sender's Image in Mail App Windows 10.
If you choose to toggle it On, then the next email opens up all by itself when you delete or move an open email.  And this is applicable for the folder you are into. And if you keep it Off, Mail app only displays the list of items of the selected folder with the background image. If interested, learn How to Use Your Own Mail App Background Color in Windows 10. Let us explore the steps and see how to turn on this setting and how it works.
Auto Open Next Item in Windows 10 Mail App
Step 1 – Open Mail app to Auto Open Next Item. You can do this either by choosing Mail from Start Menu or by clicking its icon that resides on the taskbar.
Step 2 – Click Settings icon on the lower left sidebar of the Mail app as shown in the below screenshot.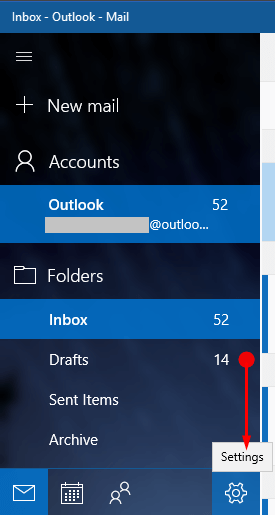 Step 2 – The Settings pane of the application opens up on the right sidebar. This shows various options, click Reading.
Step 3 – Here, toggle On the first option namely Auto-open next item.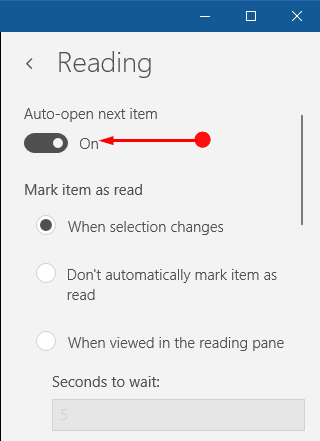 Henceforth, whenever you delete or move an open email, the next email comes into view all by itself in the preview pane. However, it shows up the next email of the same folder you were into.
Note – In case you don't prefer to use this Auto Open Next Time feature, turn it off.
Follow our another guide to Get Email Address Suggestions in Mail App Editor on Windows 10.
Well, to use Auto Open Next Item is completely an individual's choice. Some prefer to manage their Mail app by turning on this feature. In contrast, few users find this little annoying when an important email automatically opens up.
For reference, also read How to Turn on Caret browsing in Mail App Windows 10.
Conclusion
Hence, depending on your need, you can whether to Auto Open Next Item. However, this quite a useful tip when you receive loads of emails from various sources. In addition, this specific feature allows lets you rapidly manage your Mail app from time to time. Therefore, give a shot to this feature and write to us if you are aware of more tips to easily manage your Mail app.