A tech blogger often needs to take screenshots of full webpages for publishing a post over the web. If you have iPhone, iPad or iPod and want to take screenshots of webpage then how it is possible in quick mode? Though, you can take a screenshot on any iOS device by pressing the sleep/wake button and Home button at the same time. But, capturing the complete webpage on your iOS device is not a simple process. Now a helpful screen-capture app Barry Webpage Screenshot is present that lets you to take full length screenshots of web pages in the mobile browser on the iOS device and share it to your Dropbox account or social sites.
There are two methods to grab a screenshot of full web page with the Barry webpage screenshot app.
First Method
Launch the app after installing it to your iOS device. You will get an  integrated browser option to load a website with the safari browser where you want to capture the webpage.
To grab a webpage, simply tap on the Capture button at the bottom of your screen.
Now start the process of viewing all the saved images. To do it, tap on the button in the bottom-left side. This button lets you to navigate between Barry's app  interface and a list of your saved images.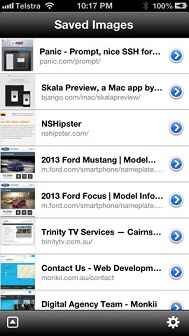 As soon as it is loaded successfully, tap on the button (right Aero sign) in the upper-right side to bring up your sharing options in a new tab. The new button contains following options like Dropbox, Save to Camera Roll, Email, Twitter, Copy Image and Cancel.
Second Method
A better way for using the Barry Webpage Screenshot app  isas a bookmarklet in Safari browser app. It lets you to boot the current webpage which you are seeing in the Safari browser with intension to capture. The Barry app gives you clear guidelines on how to install this bookmarklet on your Safari browser. To do it,
Tap on the Settings button in the lower-right side when you are seeing the saved images screen.
Now tap on install a bookmarklet in browser option and follow the two-step procedure of creating and editing a bookmark to open a Safari page in Barry.
The settings interface of the Barry Webpage Screenshots app displays three other options.
Dropbox- This option helps you to create link to share the Dropbox accounts after sign –in the account.
Quality – Set the quality and format of captured screenshots as PNG or JPEG files.
Autosave to Camera Roll – Make sure that you have enabled to No. Because there is no benefit from this option.