Using Android Phone, Your PC can be controlled with windows by making your android device act like Mouse, Keyboard or even joystick. You might be thinking why to do these. Well, it is exciting to control computer using Android Device  mostly for playing games. The best part is playing game using these amazing apps by converting your android device into a joystick.
 Five Best and Free Android Apps to Control Games on Windows using an Android phone are as follows:-
1. Monect Portable
Using Monect portable installation:- 
While install Monect app on your  Android phone from play store, download its server to your windows. Monect server runs as a service, instead used as a portable application.
Monect portable is a free Android App that allows you to control the computer. This application connects through Wi-Fi or Bluetooth device. Main features of Monect Portable Application is Race Mode where you can play driving game with your mobile phone using G-Sensors using Wi-Fi or Bluetooth. With the help of Joystick Mode, you can use your phone as a stimulator to enjoy different types of games.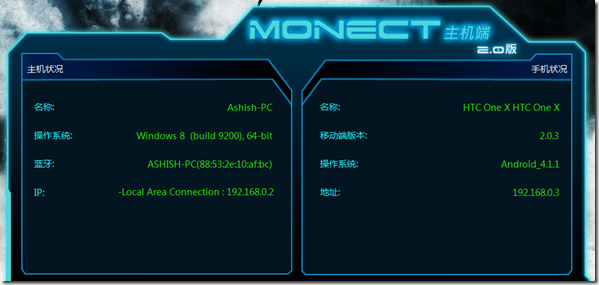 2. DroidMote 
DroidMote is also one of the Android App which is used to play games on windows with Smartphone or Android phone. With DroidMote App, you can Control your Android device, Windows with your comfort level. Working on DroidMote Android App is same as your working on remote computer where you have two different types of applications, one is user which must be installed to control a remote Android device and Windows and other is a server which functions as to control a remote device.
3. MK802 III Remote Application
MK802 III Remote is another Android App which is same as DroidMote and it is used to play somatic games with the help of G-sensor and installing the app on Android Tablet PC running on Android OS. The other features of this application are Mouse Function and Remote Control Mode.
4. iplay Remote Pad Application
iplay remote pad app easily transforms your Android phone in a normal gaming controller. You can play various games using this application on windows. This application facilitates with exciting features like playing sports, driving, etc. This application has various modes to play different games which is supported by the app like sports/steering wheel/gamepad/mouse/keyboard/remote and with powerful programming engine. You could enjoy Motion-Sensing game pleasure while controlling almost all PC games and media player.
5. nJoy Lite Application

nJoy Lite app is having different versions in which it has confined features. The app comprises different features like gaming joystick layout. It has huge desktop control layout. It consists of various media controls, web surfing as well as text input options, with which it is efficient and simple to use mouse controls and much more. Using Android phone we can simply connect with the computer with the means of Wi-Fi connection and easily play games on the big screen.