Microsoft's latest operating system, Windows 8, is still a new release for many users. Microsoft amazed to its users by User Interface (UI), making it very different from the format that many PC users are used to. Computer manufacturers like HP have published built-in tutorials and helped users to get familiar with the Windows 8 experience.
You already know that Windows 8 has a Windows store, which includes all kinds of apps. While you play with the apps, there are few apps that can actually help you to learn to use Windows 8 and may get familiar with this new Operating system.
Related Post:
Windows 8 Accessibility Guide Download Free
Complete Guide to Window 8 Task Manager – Features, Options
There are some applications through which you can get knowledge and Guidance of the windows 8. They are such as follows:-
Windows 8 Handbook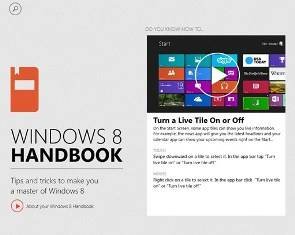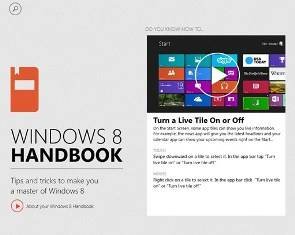 Windows 8 Handbook provides its users with all the information that has to be dealt with. It provides tutorials with the help of videos. You will find that the small tutorials can help you quickly and easily learn about various topics like touch/mouse gestures and keyboard shortcuts etc.
Learn windows 8
This application i.e, learn windows 8 seems to be the same as Windows 8 Handbook when we see first. But, it's dissimilar from the windows handbook. Apart with the former, it concentrates on step by step method to cover a topic. Learn 8 app provides only useful content that is needed to its users. It doesn't share unnecessary content which makes its users confused.
Windows 8 – The complete guide
Windows 8 Complete Guide app gives a lot of details in text format. If we want to get the whole content of any topic related to Windows 8 this is the perfect option. The main thing that appeals more is the video (for each topic) that is self-explanatory.
Apart from the teaching, it provides a new section comprising the latest news of technology which is a bonus for people.
7 Tutorials
7 Tutorials app provides a huge content repository, which is not limited to Windows 8  only. You can even get help for Windows 7, Windows Phone, Mac, and Linux. This app provides the latest updates including Windows 8. The best feature of this app is that you can explore new things every day. The contents are divided under topics and subtopics. More than an app it functions like a website and a blog.