Foobar2000 is a powerful, light-weight, and freeware audio player for the Windows OS. It is ranked as the best substitute audio player instead of VLC, jukebox, and iTunes by many users.  One of the important things about Foobar2000 is that it does not put in confusion due to an attractive interface, fancy buttons or vivid colors. The easy-to-use user interface of the Foobar2000 audio player lets you to playback music or albums quickly.
The main interface of the Foobar2000 audio player helps you to navigate the menu and its drop-down panel simply. You can customize the main interface through several layout buttons. Menu buttons and some familiar command buttons have been integrated into the top side of the audio player window. On the left side of the window, you will get two menu panels. From there, you can see the album file and the properties of a chosen song or music.
The main panel of the Foobar2000 audio player displays track lists. You will also get tabs of visualization meter on the screen which currently plays in the audio player. With the menu options, you are capable to play music files from a CD/DVD drives and save them as MP3 or WAV format directly. You can also show album art and synchronize with portable player devices like iPods.
Both beginner and experienced users may understand this audio player using simple navigation option and handy way. The most recent version of the Foobar2000 audio player has added some new basic features like ReplayGain support, low memory footprint and native support to playback all the most recent audio formats.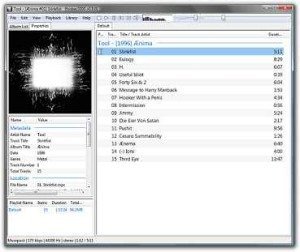 Main features of Foobar2000 audio player
Supported audio formats – MP3, MP4, AAC, CD Audio, WMA, Vorbis, FLAC, WavPack, WAV, AIFF, Musepack, Speex and a lot more.
Simple customizable user interface layout.
Complex tagging facilities to recognize the Unicode support and Gapless playback.
Support to rip the audio CD and converting all audio formats with the built-in Converter feature.
Customize the keyboard shortcuts to access the most used functions and menus.
Download foobar2000 Audio Player