When anyone buys a Phone the first thing impressive thing is wallpaper. Wallpaper increases the beauty and experience of a Phone. Galaxy S4 also keeps few wallpapers by default. Many developers are launching numbers of wallpapers for Galaxy S4 every day. But very few of them could appease them. So, to fulfill the requirement An awesome wallpaper app has entered in Google Play Store. This App is none other than S4 Red Leaf Live Wallpaper.
In this app there are various number of beautiful, charming and pretty wallpapers. You can see different types of wallpapers here as for sunshine, sound, touch, flying seed. Although the Android App has emphasized on the natural scenery. Beautiful sunshine are presented in 7 different ways. You can feel different effect after touching and dragging.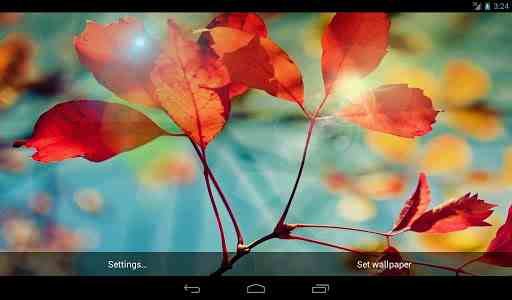 You can install S4 Red Leaf Live Wallpaper from S4 Red Leaf Live Wallpaper in Google Play. In the condition after rebooting your wallpaper resets to default, then don't keep this app in SD Card. But put it into your Phone Memory. It will work fine.
Developer has examined this S4 Red Leaf Live app on many Android Phones like Galaxy S4, S3 HTC Desire, Xperia S. These wallpapers are compatible with all these devices and if it is not supporting your device you can inform him by leaving a comment. After completion of the installation, you can drag light particle option for experience of the same screen effect as S4 Lock Screen. For this, you will have to navigate as Home  –  Menu   –  Wallpaper   –  live wallpapers.
As the background of your phone, you can use the image of your phone with this app. Besides it, you can use  pretty,  lovely,  scenic, handsome, graceful wallpapers for your Android phone Galaxy S4.
S4 Live Wallpaper