You might be looking desperately for Best Font Managers for Windows 10 that can effortlessly manage your downloaded fonts. Some users download free fonts whenever they come across as well as often buy from Store investing money. So, when lots of fonts pile up in the system, it makes the device boggy.  In the same way, you cannot use them properly as there is no perfect organizer that can take charge of your font collections.
Font managers are undoubtedly a great utility which extends a great help you in order to activate and deactivate fonts anytime on the go. Additionally, the tools let you arrange all the fonts in multiple groups based on similar category. This will be much effective while changing the fonts depending on the taste and need of time. We will be discussing the Best Font Managers for Windows 10 in a while to facilitate you for accomplishing above mentioned tasks. Before that, let's proceed to know the reasons to use font managers on your computer.
You can read our tutorial to Change Default Text Font in Windows 10.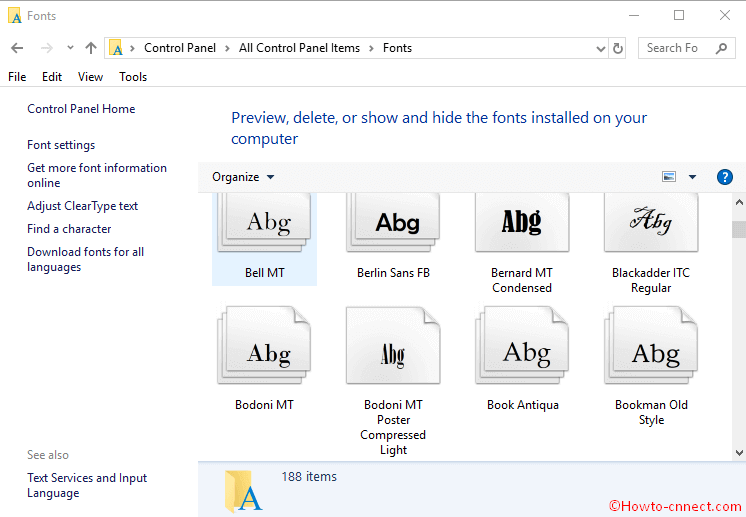 Purpose of a Font Manager
A question may arise, why we need a font manager actually. Of course, there are several good reasons behind this and some are listed below. Go through them as we will try to get yourselves acquainted with the Best Font Managers for Windows 10 here.
To activate as well as deactivate fonts manually.
Font managers provide protection to the necessary fonts as well as limits the probability to be uninstalled.
Helps in organize the fonts according to groups and libraries.
Run an automatic scan for corrupted fonts and repair them.
It provides appropriate search tools as well as quick preview.
Helps in sorting out fonts based on different criteria and design.
Rename the font files smoothly.
Preview the fonts those are not installed correctly.
Extract fonts automatically when required and additionally, it helps to avoid using an unzip software tool.
Takes part actively in cleaning potentially troublesome system font caches.
Not only are these but also there are more reasons apart from this list. Considering these facts, we need a font manager badly on your computers. There are plenty font managers available in stores and websites. Not all of those are perfect enough when you consider security issues and performance. So, let's start.
Best Font Managers for Windows 10
1. NexusFont
NexusFont is a powerful font manager and it has a comprehensible range of font and file attributes. This is why we put this at the top of our list. It incorporates all the management tools that you need to handle the fonts. The best thing about it is that it makes font previews and category on the main screen of the computer. Moreover, it shows the details of the file properties. Another significant point about NexusFont is that it enables the users to access any fonts while running. Additionally, it supports many languages and characters and is capable of sorting and viewing the fonts on the number of attributes.
However, its preview list doesn't make enough fonts visible at a time.
http://www.xiles.net/
2. Font Runner
Number two on our list is Font Runner. It's a very much effective font manager while organizing as well as searching the font collection on your computer. Using this font manager can enable sharing of fonts without installation. It provides easy access to searching fonts and comes with a simple interface.
But Font Runner is comparatively large file then other programs. It uses File Explorer for managing the files.
www.codeandrun.com/john/font-runner-2/
3. Cfont Pro
Next font manager on our list is Cfont Pro. It provides a wide range of views including glyph viewer. It can zoom the font characters up to pixel level. Besides its clean interface, it holds an expansive viewing option for the fonts and shows the characters in various windows and panes.
A small limitation of this manager is it has a small number of User-defined groups. But it discards projects every now then.
https://cfont-pro.en.uptodown.com/windows
4. AMP Font Viewer
AMP Font Viewer helps the users to generate categories and groups easily. It easily categories the fonts into different groups. Moreover, it shows more fonts in a single window. The little drawback of this font manager is that it lacks in an improved user interface.
http://www.ampsoft.net/utilities/FontViewer.php
5. FontMatrix
It's a cross-platform and one of the best font managers for Windows 10 and it can organize fonts installed system-wide or for individual user accounts. Top class features are included in this tool. Moreover, it allows users to label a font with multiple tags (similar to Gmail labels), which may be activated or deactivated as sets. It incorporates high-end features available like PANOSE font classification and glyph comparison.
FontMatrix has a bit complex interface as well as slightly unstable in Windows operating system. But preview regeneration is little slower in this manager. Also, there is no font file management.
https://github.com/fontmatrix/fontmatrix
6. Font Frenzy
This font manager is renowned for managing the fonts to install as well as uninstall from the font folder present in the system. It has a very simple interface and focuses on four buttons only. Furthermore, it allows changing fonts in the operating system too.
Font Frenzy unable to modify the standard text and font information is very limited and has no Unicode too.
http://download.cnet.com/FontFrenzy/3000-2316_4-10302029.html
7. The Font Thing
The Font Thing is an exceptional font manager to perform a batch install and uninstall the fonts. Easily make groups in the collection. Effortlessly manages the font collection. As it is a lightweight tool, therefore users find it simple to use.
This specific program doesn't support Unicode and was updated last in 1999 and not updated later on.
http://members.ozemail.com.au/~scef/tft.html
8. Font Viewer
This portable font manager comes with precious filtering options and can organize Unicode smoothly. It can be installed temporarily and as it is a lightweight, users find it simple to use. File management by this tool is limited and there is no such grouping of fonts in the collection. This program allows you to view only one folder at a time.
So, the above mentioned are the few yet Best Font Managers for Windows 10 that you can put to use.
http://download.cnet.com/Font-Viewer-for-Windows-10/3000-20418_4-77552966.html
Conclusion
Font manager is a very important tool in order to handle the fonts in your collection smoothly. Moreover, these tools come with additional benefits. Starting from sorting out to delete the corrupted ones, font manager takes active part everywhere. We have discussed Best Font Manager for Windows 10 here to facilitate you so that you can choose the best one. Additionally, we focused on pros and cons too so that you can compare one with another. We recommend you to read this list, as well as the details provided here and select the best one according to your demand.