Today, we are going to introduce some of the Best Free YouTube Downloader APK for Android handsets. You may always watch videos, music, tutorials, learning materials, like hacks and so many things on this media sharing site. But you often come across certain videos that you need to store on your smartphone for further use. So, in such scenarios, you may be in search of apps or files that can let you easily moreover directly download YouTube videos on various resolutions. So, here we present you a collection of YouTube Downloader APK for Android devices.
Best Free YouTube Downloader APK for Android
"App Package for Android" (in short *.apk) is a particular file format that is dedicated to an Android OS. These are not actually available as installer type software and you need to download as well as install them manually. Unfortunately, Google Play Store doesn't have a better utility to get YouTube videos for Android devices. This is why we need to talk about Best Free YouTube Downloader APK for Android.
How to Download YouTube Videos using Videoder on Android
Videoder is the first one on our list of Best Free YouTube Downloader APK for Android which lets you browse through any "video streaming services". With advanced and smart features, it claims itself the smartest video downloader recently. Sleek appearance, attractive themes, ads-free video stream, and downloads make it a catchy item.
Videoder offers superfast downloading approximately 10x faster than others. Moreover, its smart link detection makes the app lucrative. One of the most amazing features is it immediately shows download link on the interface once you copy a media or video link. Furthermore, this specific APK supports batch downloading system which is really uncommon with others.
How to Download and Install Videoder
1. On your Android handset, launch any web browser. Visit the link given below and make a tap on the Download Videoder for Android button to initiate downloading.
https://www.videoder.net/youtube-downloader-for-android
2. Next, open My Files folder on your smartphone and tap on the downloaded .apk file.
3. Tap Install on the following screen.
How to Use Videoder to Download Videos
Step -1 Open the App on your Android device and use the YouTube quick link to reach out YouTube. Instead, use the search box and videos available on its interface.
Step – 2 Once you select a video, links for both audio and video including their resolution and size will appear in the below section of the screen. Select the one that you prefer to download (see screenshot).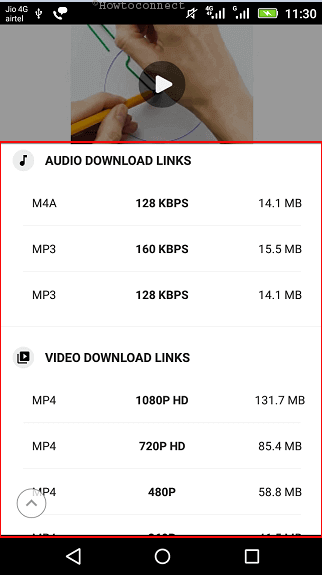 Step 3 – Rename the file if required and change download location if you need on the following page.
Step 4 – Finally, tap Start Download to initiate the process.
How to Turn On Age Restriction on Videoder
If your underage family members have access to your device and Videoder, you can change the restriction mode on to limit watching all contents.
• Tap the Hamburger menu on its interface and select Settings.
• Choose Content Settings and toggle the Restricted Mode On as depicted in the below picture.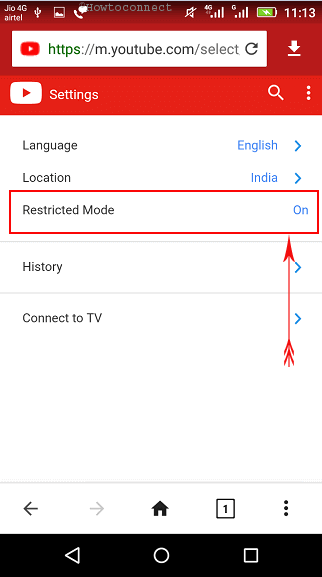 How to Download YouTube Videos Through Vidmate APK
Vidmate has become stronger with the latest updates and this is considered as the oldest YouTube downloaders. Therefore, with a powerful manager, easy interface, handy tools, it stays on the list of the Best Free YouTube Downloader APK for Android.
Furthermore, you can also watch TV online at Vidmate. There are over 200 channels available for live TV. Besides, it has an advanced inbuilt video player to provide the best movie and video experience.
How to Download and Install Vidmate
A. Go to the below link and visit Vidmate website on your smartphone.
vidmate-apk.in
B. Scroll down and tap the Download Vidmate button.
C. Tap the APK file from Downloads and select Install button to start installing it (see snapshot).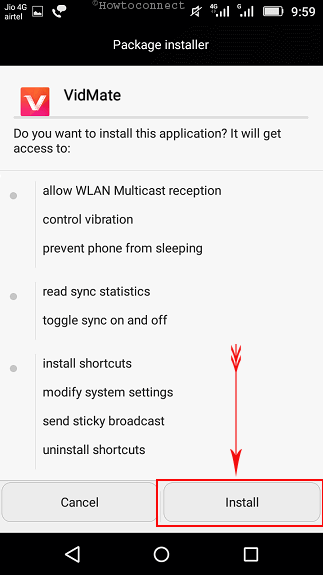 Note– If the installation is blocked anyway and previews failure notice like "Installation Blocked", you need to change the settings as well as allow installation from unknown sources.
How to Use Vidmate for Downloading YouTube videos
01. Launch the app on your Android handset and type the name of the video in the search box located at the top.
02. Use the YouTube icon from below to reach that video sharing site.
03. Tap the targeted video and touch the Download icon stays at the bottom with a red circle.
04. Select the video quality and the size as shown beside the resolution. Check the file type and tap Download button to continue.
How to Increase Download Speed in Vidmate
Vidmate has default speed boosting mode in the app. Therefore, enabling this option will make the downloading faster than before.
a) Tap the Me button at the bottom and then select Settings.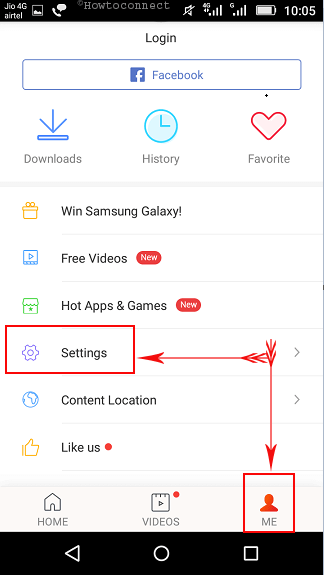 b) Proceed with Download Settings on the consequent screen. Scroll down and toggle On the switch namely Fast Download Mode.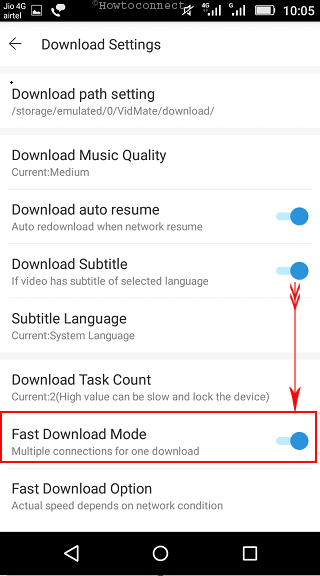 How to Download YouTube Videos Through Snaptube
Snaptube is always loaded with awesome features. Easy to use, simple structure, easy and faster downloading videos made it a must grab APK on your Android. Videos are easily discoverable by searching in the default browser.
While using Snaptube you can manage your downloads. Moreover, its main interface contains a number of useful quick links that makes navigating easy and time-saving. APK allows you to explore videos with various resolutions or you can also choose audio only. As a result, with the variety of reason, you have to definitely place it on the list of Best Free YouTube Downloader APK for Android.
How to Download and Install Snaptube
i. Open any web browser and visit the given link to reach Snaptube website. Tap Download on the page to grab its APK file.
https://www.snaptubeapp.com/
ii. Once the process ends, navigate to the Downloads folder and tap its APK file.
iii. Tap Install button on the next screen. On its completion, the app will notify you.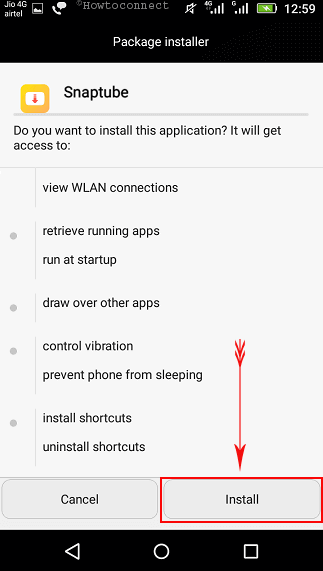 How to Use Snaptube for Downloading YouTube Videos
• On Android handset, tap the Snaptube icon among the apps to launch it.
• You will find quick links like YouTube, Facebook, Dailymotion and few others on its main interface. Tap YouTube to download videos from this media sharing site.
• It also lets you search directly with keywords to look for a specific video.
• Once you have a selected a video, tap the red Download button placed at the right bottom of this page.
• Next, select the video quality compared with resolution and the data necessary to download that appears on the right side.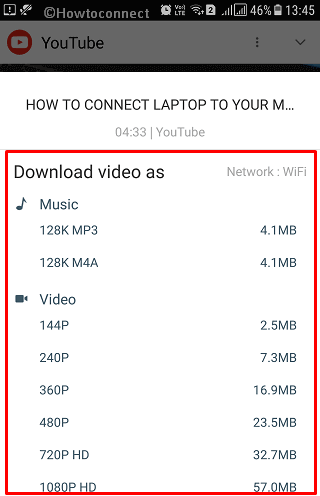 Note – You can choose from a wide scale of resolution starting from 144P to 4K if you want to save the video. Snaptube includes an amazing option to download only the audio. If it is a music video and you want MP3 only, you can easily go for this option
How to Download YouTube Videos via GetTube
GetTube pauses the ongoing download in the loss of data connection and resumes when gets access to the Internet. Multithread downloader manages faster rate. The APK supports the subtitle downloads to aid watching multi linguistic videos.
In addition, the inclusion of parental control, a wide range of resolution support, direct MP3 downloading of music videos, built-in browser to get access to YouTube made it productive. Before you proceed with the download there are available options to rename and change directory. Therefore, we included this one in Best Free YouTube Downloader APK for Android.
How to Download and Install the app
I. Follow this link through the web browser and visit XDA forum website.
https://forum.xda-developers.com/android/apps-games/app-gettube-youtube-downloader-t3217010
II. Reach out to DOWNLOAD THE APP section and tap the option This thread's Downloads Section.
III. Once you go to the following page, tap the updated APK to open its details. Tap Direct Download option at the bottom to start getting the APK file.
IV. Tap Install after opening the file from Downloads and finish the installation.
How to Use GetTube for Downloading YouTube videos
a) Launch the app and tap ALLOW when it prompts for permission to access your phone's media.
b) Use the Search icon from top right corner to search a video on YouTube. Here, tap on the video that you want to download.
c) Once opened, tap the Hamburger menu on the lower right of the interface and three more icons will appear with Audio music, Play, and Download.
d) Tapping the Download icon will show a list of files with their size and resolution.
e) Tap the resolution you want to proceed with.
f) Rename the file name if necessary and also change the file location where you want to place the video and then tap Start to proceed with.
g) You can also add this one to Download list tapping Add button beside Start.
How to Download YouTube Videos From WonTube
WonTube is another interesting APK that comes on our list. This is almost similar type of APK having an instant downloading option of YouTube videos. Additionally, managing downloaded videos is easier. The app is provided with a superb manager to organize videos orderly.
How to Download and Install WonTube on Android
#. Launch any browser on phone and visit the following web page.
http://www.wontube.com/free-youtube-downloader.html
#. Tap Download button under WonTube.
#. APK will start downloading shortly and will be available in the Downloads folder. Tap it to open and touch Install button.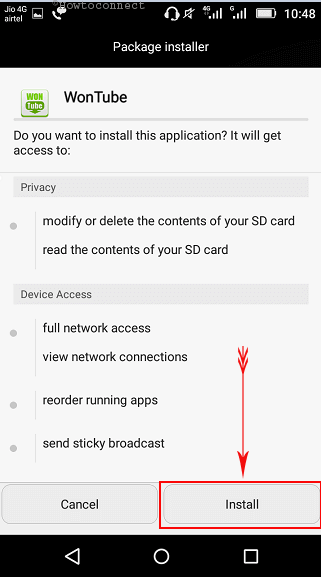 How to Use WonTube for Downloading YouTube Videos
01. Open WonTube and swipe the introduction features.
02. At the top, there is a search bar where you can look for a specific video rather than YouTube.
03. Select a video from YouTube in order to view or play that one. Tap the Download icon located at the top right corner beside the search bar.
04. Select the quality of the video before starting and then proceed to Download the video.
How to Download YouTube Videos Through AnTube
With numerous cozy features, AnTube lies among the Best Free YouTube Downloader APK for Android in the recent past. Moreover, you can grab other video files very easily using this App package. The saved items are automatically stored in external SD card which doesn't put loads on phone memory. The APK is well provided with the Smart manager that performs faster and restriction-free process. It supports downloading in the background and one tap. There is a dedicated button for selecting resolution before you start which lets you choose between data consuming videos and high definition quality. You can lock your private videos with passwords too.
How to Download and Install AnTube
Step-01: Follow this link and visit AnTube APK Downloading page.
http://download.cnet.com/AnTube-Video-Downloader/3000-31714_4-77477979.html
Step-02: Open Download folder from My Files and tap the APK file.
Step-03: Touch the Install button to initiate installing and tap Done at the end.
How to Download YouTube Videos using AnTube
I. Launch the AnTube application and type the video name or address in the search bar.
II. Reach out to the required video selecting from the search result.
III. Tap the Download button beside any resolution in order to grab the video on your device.
Hence, these are the Best Free YouTube Downloader APK for Android. Grab the favorable one comparing the features and enjoy YouTube at the best.