When you block All Cookies in Edge in Windows 10 your restrict websites from storing tiny files on your computer to assemble your information and your priorities. Microsoft Edge lets you decide whether you prefer to permit the cookies or not. In fact, it also gives you a provision to block the cookies of the third party. In this article, we will show you how to block All Cookies in Edge in Windows 10.
Informative post:
What is Cookies, Cache and Browsing data? Why do we clear it?
When you browse on a particular web browser, the websites send a small component of information and thus it gets stored in your web browser. Since then, when you browse that particular website, your browser sends back the cookie to the server, making it aware of your previous activities. These are designed to record your browsing movements. Though the third party cookies can follow your privacy and can also be harmful to your computer. It is all up to you whether you permit or discard them. Whatever changes you do will not affect the previously stored cookies. So, in that case, you can delete those cookies. Now, let us begin with the steps to see how to block all cookies in Edge in Windows 10.
Another Useful post:
How to Manage Cookies on Chrome, Firefox, IE, Opera, Safari
How to Block All Cookies in Edge
Make your way into the Edge browser and perform a click on More actions three dotted symbol on the top right of the browser.
Click the last option, Settings.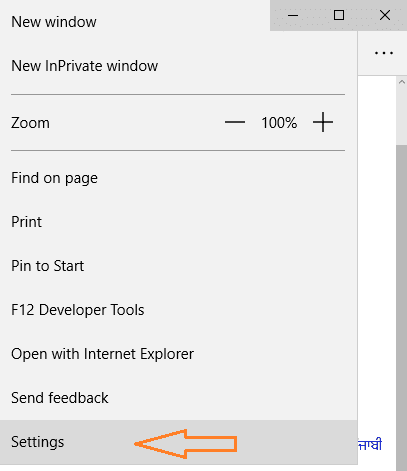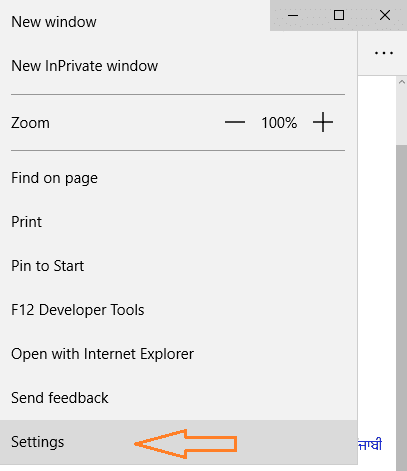 Again get down and click View advanced settings.
Scroll down the advanced settings and you can see a small heading of Cookies with a drop-down menu.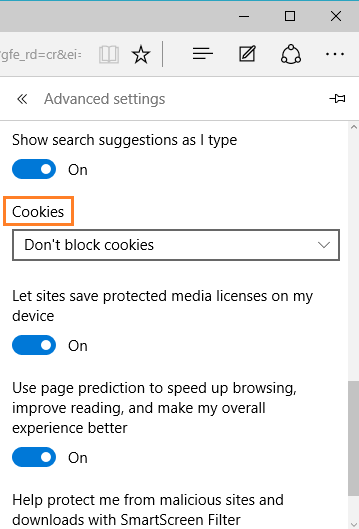 Now, you have three options to choose: Don't block cookies, Block only third party cookies and Block all cookies.
Choose any one option as per your preference.
Done!
Microsoft Edge provides you three different ways to manage the cookies that are accumulated on your computer. To keep your computer on the safer side, you can choose to block third party cookies. Otherwise, It is all up to you to allow or block all cookies. There are certain locations on your computer where these cookies are being stored. Hope you will manage your cookies in the best possible way. Let us know if you hold something more on this topic.