To clear cookies in any browser is a routine action for all of us. But, if we want to block cookies in internet explorer especially in Windows 8, we have to follow some tips, which are being processed further.
Actually cookies create small files and stores in hidden mode in computer drive while we surf any website. It contains our personal information. Whenever we browse a website using cookies, it requests us to fill up our personal information like name, interests, and many more in pop-up box. As a result, this info is packaged among the cookies and it is saved within browser for future use.
The default browser Internet Explorer 10 on windows 8 presents several different features like Do Not Track, spell checker that has been described already at our blog. Internet Explorer 10 offers high protected option in order to access without any troubles. if anyone wish to block or enable cookies within Internet Explorer 10 then it is simple process.
How to Block cookies in Internet Explorer 10 in Windows 8?
Launch Internet Explorer 10 within desktop mode.
Go to top left side and click on gear icon and again click on Internet options menu.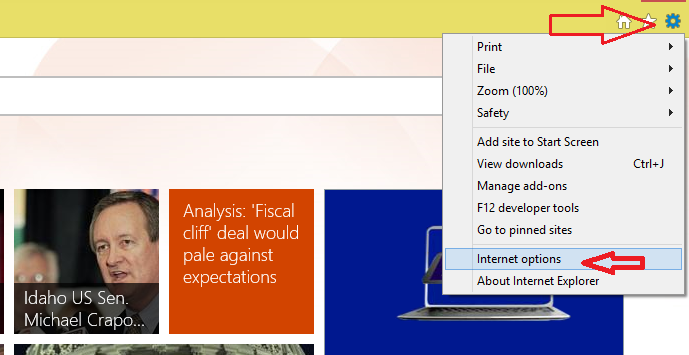 Now you get Internet options titled window. Here, tap on privacy tab from top tab menu panel.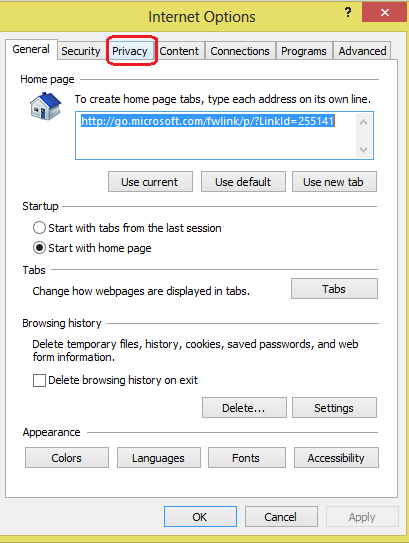 Under settings section, drag the bar upwards with the purpose to block all cookies.
At last, click on Apply and OK button together to save new settings.
Thus, we have blocked all cookies permission in Internet Explorer 10 in simple ways. If we want to start cookies permission again, go to privacy settings window, drag the bar downwards until it prompts this notification "Accept All cookies".