Everyone knows that Microsoft characterized Edge as a default internet browser for Windows 10 but there have been instances where some of the users want to get rid of the browser or want to block it completely.
Users are exercising with other advanced feature equipped browsers like chrome and Firefox and they get habituated of running these. So when Cortana starts searching with Edge they don't adapt to it. Although settings app facilitates to change the default one, still Edge remains in the limelight as it is deeply engrossed in the system due to its default nature. Apart from this, every update for the operating system abolishes the default settings modified by you and you are compelled to change the default browser once again.
Here comes an absolutely lightweight but very effective Edge block which works very straightforwardly. This software can be proved very handy for them who dislike Edge on his Windows 10 machine.
How to Block Microsoft Edge on Windows 10
Before deciding to block Edge, it is a good practice to occupy a backup as it will help you if any issue occurs.
And the most important thing is prior to blocking the edge browser select a browser as a default. If you still have Edge as your default browser, running several programs will not be convenient so far. For this chase the route:
Start menu -> Settings -> System -> Default apps -> Web browser -> The browser you like
This article can be a great help Windows 10 – How to Manage Default Apps Through Settings
Now go to the bottom part of this article and click the link to grab Edge block.
On the official site of Edge block (Sordum) click Direct download which starts downloading a zip file. After completion, extract the Edge block zip file.
Perform a double click on EdgeBlock.exe file.
UAC permission pop up comes to view on the screen click Yes to agree.
the user interface of the Edge block emerges.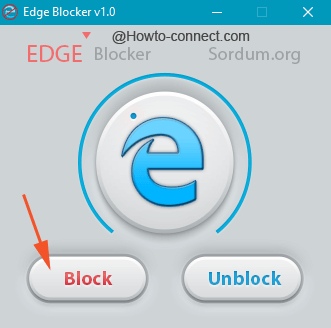 Simply click Block button and the browser is successfully blocked.
At any moment when you think to Edge is of your use just click Unblock.
Conclusion
In the end, Edge Block is a useful lightweight (468 Kb) and easy to use program for users. If you are among the user who does not wish to continue with Microsoft Edge on their Windows 10 device this is a good choice.
Download Edge block by hitting this link http://www.sordum.org/downloads/?st-edge-block