IRCTC Connect is a free app for Android Users developed by irctc.co.in.  Booking Railway tickets have never been such easy and comfortable. This new app provides One step login to its existing and new users. You can do almost everything which you used to do on its websites except for some features. This app has made the booking tickets simpler. You can book, view or cancel tickets using this app quite easily.  The interface of this app is clean and very easy to use.
You may like to read:
How To Book Train Ticket on IRCTC Connect
At first, go to the link provided at the last of this article and install this app on your smartphone. This is a very nice app which will take very less memory  ~5 MB.  Once you install this app, open it. This will open its interface.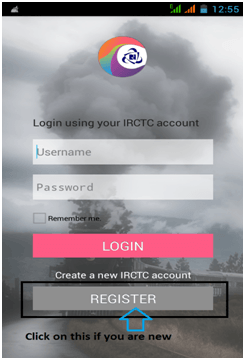 Click on Register if you are new, this will open a new interface asking for your initials, phone number, email id and address.  Fill Correct Email-id and phone number as it will be used for the verification process. Once you complete this step, press submit.  A password will be sent to your email id and an OTP will be sent to your mobile. Both will be used to verify your identity.
Existing users won't need to worry about the above process. All they need is to login using their username and password.
As soon as the verification process is over, it will open your account.  You can look at your account by clicking on three lined option present at the left topmost corner.  You can go for various things like New booking, Your Booked tickets in MY Bookings, Cancel Ticket etc here.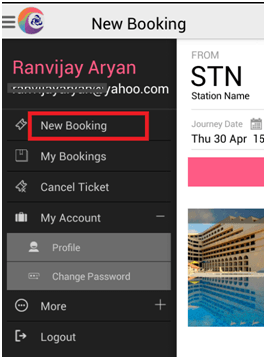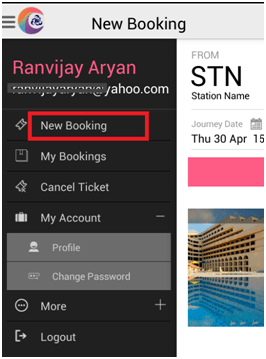 Now to book a new ticket, click on New Booking.  Put station code or name in the place of From and To. Select the Journey date and Quota in which you want to travel. A screenshot is shown for your convenience.
Click on Search and it will browse all trains running on this route on that particular day.  Clicking on three dots will open more settings where you can look for seat availability, fair etc. Start Booking the ticket and the rest is the same as you used to do on its websites.
Key-features
Only a single Step needed to login to existing users.
Search and Straightforward and Book train tickets.
See your Ticket and cancel if you have no necessity further.
Preserve the details of passengers containing 5 newly added users.
You can register right from this app.
Provides Forthcoming Journey Alerts.
New Features Added
Advanced reservation changes from 60 days to 120 days w.e.f 1st April
New Stations added
User login password issue resolved
IRCTC Service charges have changed from Rs. 10 to Rs. 20 for SL and 2S Class and Rs. 20 to Rs. 40 for all other class per ticket.
Conclusion
IRCTC Connect is indeed a very nice app. All you have to do is to swipe shuffle and book that's it. However, it lacks some of the most important features which make the use of this app less frequent. These features are Train current status, the platform number status, no sync between the app and the website, PNR status is not there etc. If all these features are included in this app, It might get more attention.