Intel corporation is known as the top CPU manufacturer company in the world. Intel Core is a trademark of Intel that presents a range of consumer and business CPU for laptop and desktop. You would be also familiar with a different range of Intel Core CPU in advance. For example –  Core 2 Duo, Core 2 Quad, Core i3, Core i5.
Now Intel has introduced CPU performance tuning software, especially for skilled users. The name of the software is Intel Extreme Tuning Utility. It helps to boost the performances of system CPU memory and other internal hardware. This software represents a set of healthy aptitudes together with new unique features available on new Intel processors and motherboards. It doesn't only improve your system performance but also speeds up the system's internal memory like RAM, Hard disk.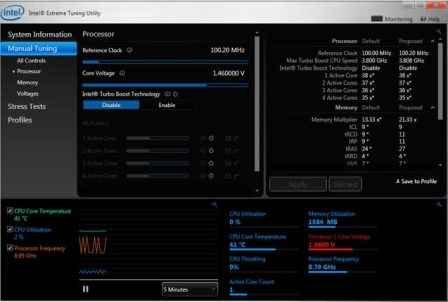 The most remarkable characteristic of this software is auto-tuning support. It maintains system strength in an easy way. It also lets you view and observe current voltage, temperature and fan speed of the running CPU in a graph. Before using this tuning software on your computer remember that varying clock frequency or voltage can create following issues.
If you enable overclocking feature, it can reduce a system constancy, performance of CPU or data transfer reliability.
Harm or overheat the CPU.
Note
Intel Extreme Tuning Utility software is compatible with both Windows 8 and Windows 7. If you are beginner then don't attempt this experiment on your computer, because it has been designed only for experienced users. After any mistake, this software can damage your system hardware and cancel product warranties. So, beginner users need to well know the value of CPU overclocking first.