Urban Dictionary is a fantastic Windows 8 app using which you could get to know about of thousands of new words. These days, we often try to guess the meaning of a new word which came across during reading books, Novels, watching Movies and other sources. We don't want to search for this as we have to open then net and waste our left Mb in searching the right meaning of that word. For all these reasons, Microsoft has brought a new app which could solve your problem. If you want to know about meanings mentioned in it in details, you could go to its official website. However, it is not required as this is well explained here too on this app. Besides this, you can improve your vocabulary with this app.
The interface of this app is very impressive. It is designed in a very simple manner so that users could use this app with a lot of ease. The choice of colors for its interface is fabulous. A screenshot of this app is shown below: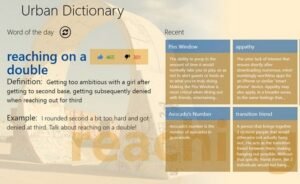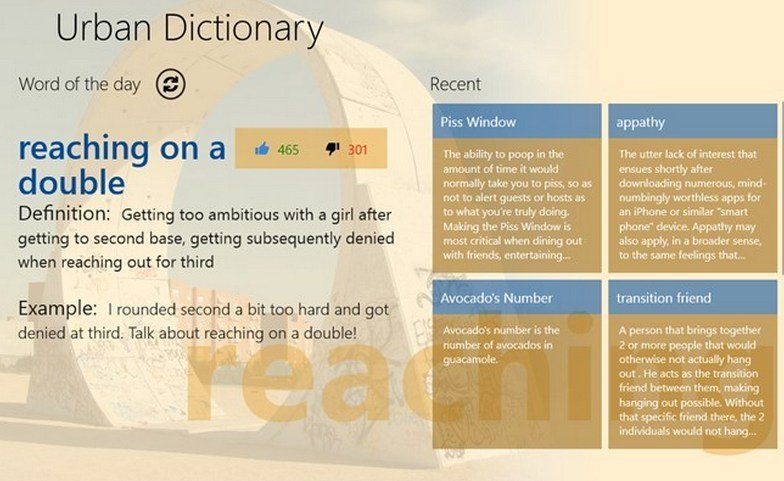 You could have this app from the Windows 8 App Store under the Entertainment Category. You could also search it using windows 8 charm facility or could easily get it from the link provided at the last of this article.
Find words and get their meanings using Urban Dictionary app
The features offered by this app are very useful, handy, and somewhat sufficient. The app is a good start. The fonts used in this app are big in size, because of which it makes it easy to read stuff, even for the weary eyed people. There's no sign-up or registration required, hence removes all the cumbersome stuff. Once you have installed this app properly on your Windows machine, you could open this app from its icon.  A screen like the above shown screenshot will appear on your screen.
This is the home page of this app. On this page, you could see the Word of the day in the right corner. You could see the definition of this meaning just below this word. You could also understand this word in a nice way by seeing its use in the example. There is an option of liking as well as disliking this word. You could also go for it using this information. However, this is not a standard thing to do. On the same page, you could also see a blocks of different words which are there under the category of Recent. The above two mentioned word of the day and recent option has a wonderful refresh button attached to them which would help you by refreshing the words themselves. You could also see for your chosen words under the category of favorite. There is again a category of Random words where you could get to know about different combinations of new words.
There is again an option of Best of the year where you could know about all those words which are famous for almost all the year on its official website. You could also share a word meaning with your friends if you had liked any word by using Windows 8 Share charm (Win + H), or right click on this screen and click on Share button.
Salient Features of Urban Dictionary App
Totally Free Of Cost.
Get to know about new words daily.
Share definitions as well as links using its share charm.
Shows you a Word of the day for your live tile.
Get access to definitions as well as examples related to it on UrbanDictionary.com site.
Use search option to search for words directly.
Comes with Windows 8 search, share and charm settings.
Set your own favorite word for a day.
Conclusion
While working with Windows 8 OS, it is very nice to see that we could open a lot of websites without even going to its official site. This is one of them which lets you search and know meanings about different words when you need it. Again, this is very simple as this does not require any internet connection except during its installation. You could learn to a lot of new words if you wish too. This is a must try app for all types of users.
Link: Get Urban Dictionary Here