How to Center Icons on Windows 8 Taskbar. – Windows 8 taskbar is disposed on the lowermost segment of Windows 8 machine's screen. It shows the tasks running on your system and provides furthermore facilitates the platform from where you could get access to programs.
You could customize and personalize your taskbar relevant to the presentation of Windows 8 screen and your demand. Sometimes we have to face an awkward situation like icons on Taskbar gets cluttered on the left side and you need to center it. You could uncenter or center icons on Windows 8 taskbar to change its look. Here we are presenting tips for that.
Center Icons on Windows 8 Taskbar
Right click at any place on a vacant part of Windows 8 desktop screen and Click on New then Folder.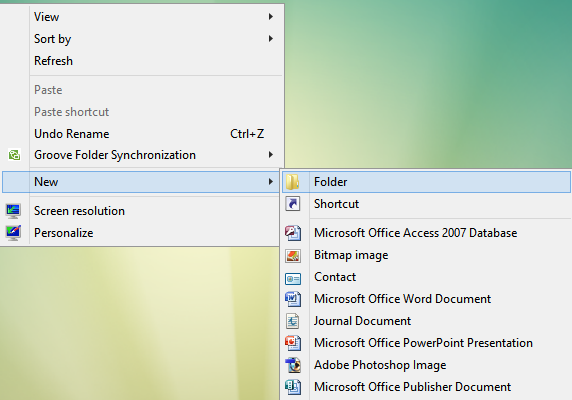 This will create a new folder. Give this folder name Dummy folder. A Short name is preferable. Right click on your taskbar and take the cursor to Toolbar. New menu prompts and an extended menu containing a submenu New Toolbar…. on the extreme lower part emerges, click on it.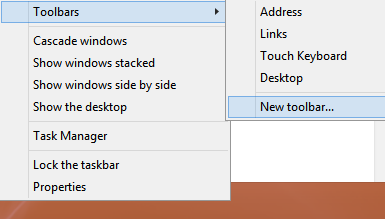 Click on dummy folder and then Select Folder.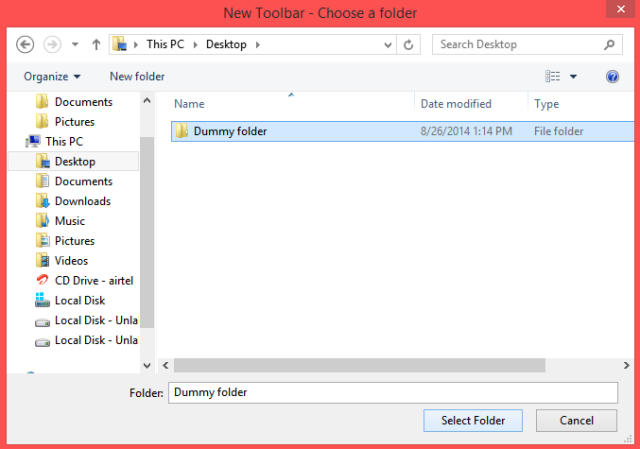 Dummy folder toolbar will come to your taskbar.
Now drag the dummy folder and taskbar items in which position you want to have whether it will be in right or center. With this folder, you can uncenter icons on Windows 8 taskbar. Finally, lock the position by right clicking on the taskbar and selecting "Lock the taskbar" on the list. You can create backup of toolbar and restore it in future if needed.
Recommended: