A professional or business personnel is seen often with his laptop even during traveling on the trains or buses. He spends more time on their laptops during long traveling, so, they have to pay attention to optimization of laptop battery. Once you optimize battery, it helps you to decrease the power consumption through falling the screen brightness of the laptop screen, turning off Aero feature and adjusting several settings.
If you want to increase laptop battery life then you can apply a third-party tool. It provides extra helpful features along with showing notification regularly about battery usage. At this blog, an important trick has published already like How to Send Laptop on Hibernate Mode on Power Failure.
Here I have shortlisted best freeware tool for Windows operating system which permits you to view genuine laptop battery usage.
1.   Battery Info
As you view often single tiny battery icon which shows battery level on the right side taskbar panel. By Battery Info tool you can shifts your laptop battery icon left near to the taskbar notification area. It also displays extra details like current power consumption or the lasting time of battery.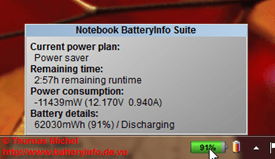 See more details and download link 
2. Battery Bar
Battery Bar is recognized as battery checking meter that examines the position of your laptop battery on the taskbar panel regularly. This tool continuously examines the position of your laptop battery with historical statistics. It provides details like true estimate of forthcoming battery backup while you access laptops with it. It is Paid tool, and you may use its trial versions.
3. Battery Eater
Battery Eater tool permits you to check your battery performance is better modes and fix its primary troubleshoot automatically. Battery Eater tool uses to check your battery until the power supply is totally tired from battery.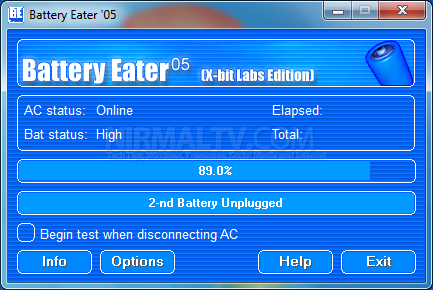 Battery Ear download link
4.  Battery Care
Battery Care assists you to optimize the battery and increase its performance. Through it, you can examine the battery discharge phase, boost self-sufficiency and get better battery life. Battery Care always examines the current temperature of your computer processor and hard disk also.
5. Battery Meter
Battery Meter is released with complete characteristic to check your laptop battery. It shows exact left behind time of the battery in tiny battery symbol. Battery Meter tool brings details like full charge status and full discharge status while you have plugged or unplugged laptop Ac connector.
Battery Meter Download