It is said 'communication opens the door of limitless success'; and communication needs right kind of words too. It seems easy to communicate anyone, if he or she uses same language. In other case, when both of them are not familiar each other language, communication could not be made. Certainly, instance like unable to communication with others left users in frantic condition. Gmail, the leaders of mailing services, comes with solution called 'Input Tool' to make users enable to communicate with their friends & others of different community. In fact Gmail has added more than 100 virtual keyboards and transliteration for supporting multiple language.  Input Tools enable you to change typed language into desired language with single click. Now, I am going to pave the way of enabling Input Tool in your Gmail Accounts to ease up communication.
Login to your Gmail Accounts.
Click on Gear Icon, at top right corner of screen, select Setting option.
Then after Select 'General' Tab and choose Language option.
In front of 'Gmail display Language' click on to link of Show all language option.
Now, applying tick mark against 'enable input tools'.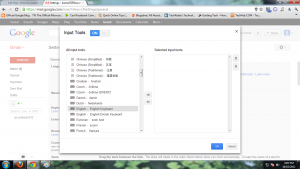 Finally click to Save all Change button to apply Input Tool settings.