One of the key characteristics of Windows 8 has come with extraordinary interface which is called Start screen or Metro Screen. There is no comparison of features between Windows 8 start screen and the usual start menu button of older Windows versions. Suppose you access windows 8 first times then you begin to think in order to how access windows 8 easily?  
I have discussed already it on my blog as how to add start button in Windows 8. Then substitute suggestion is found for you to resolve this solution like recover the windows 7 like start menu panel in Windows 8 through external tool. The name of the following tool is start 8, Classic shell.  Now the new tool has been released as StartMenu8 for Start Menu Replacement to make Windows 8 as Windows 7 simply.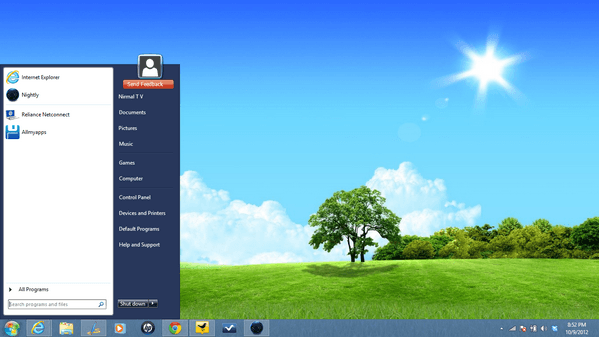 Start Menu Replacement to make Windows 8 as Windows 7
Features of StartMenu8 –
It is individually designed for only Windows 8 operating system. This software presents an ideal result for those Windows 8 users who want to access windows 8 works through Start Menu panel forever than start screen. This tool supports following features like it displays start button and Windows Start Menu panel at once along with providing an option to skip Metro start page. StartMenu8 tool assists windows 8 users to access only from the desktop screen openly without prompting start screen.
Important Tips
When you press right-click on the start button after installing StartMenu8 tool, a right context menu panel displays two options like Run at Startup and Skip Metro Screen. If you want to bypass the metro screen after booting windows 8 then uncheck this tab – Skip Metro Screen.