A Hard drive is an important part of a PC which needs some conditions to work better. Temperature between 20 to 50 degree celsius is ideal for the best performance of this component according to some reports. To check the Solid State drive temperature in a laptop or desktop Windows 10 has a built-in setting that is hidden and you couldn't easily find that. Currently, this feature is available for NVMe SSD.
Any temperature beyond the temperature limit may lead to the degradation of the SSD. Windows 10 didn't provide any feature by default to monitor it and the only options were BIOS and 3rd-party tools. But with build 20226 or later, you can check SSD Temperature in Windows 10 by going through a location in Storage Settings. This feature checks the abnormalities associated with NVMe SSD. Normally, you need not often to have a knowledge of the info but the same is rather must when the drive emits heat for longer or fails and you need to take a backup or recover.
Check SSD Hard Drive Temperature in Windows 10
Here is How to check SSD Hard Drive Temperature in Windows 10 –
Press – Windows + S.
Type – storage.
Hit the – Enter.
Go to the right pane.
Reach – More storage settings section.
Click the – Manage Disks and Volumes.
Select the drive whose temperature you want to find.
Next, click – Properties.
Go to Drive health section to Check SSD Hard Drive Temperature.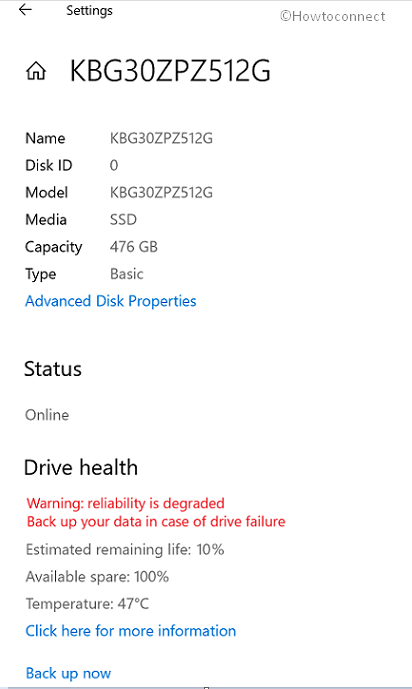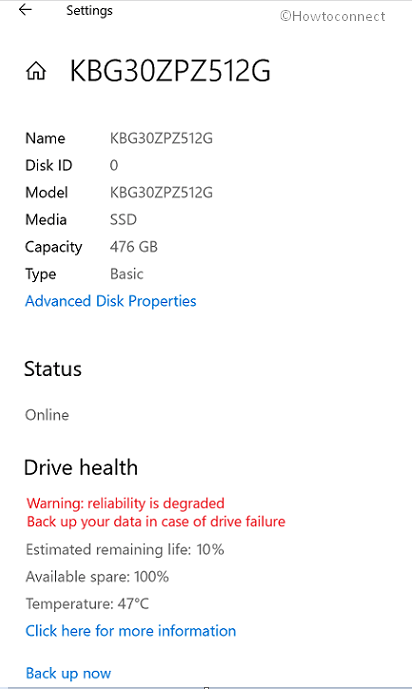 You can also find Estimated remaining life and Available spare in this setting.
More posts to find out the same and other info in a PC –
1] How to Check Ram Type in Windows 10 like DDR, DDR2
2] How to Check Laptop Specs in Windows 10
3] Windows 10 – 5 Ways To Know BIOS Version of MotherBoard
4] Best System Info tools – Know motherboard, CPU detail of Computer
5] Top 10 Best PC Specs Checker Utilities
That's all!!