People are fond of downloading and watching videos on android devices. But the problem arises when the memory of the device gets packed. This situation hinders the users to use the memory further and slow down the speed of the android device as well. We have chosen an app in Google Play Store which will dilute this problem. This app is Video Compressor. Video Compressor Android App lets you compress any video to the file size you want. This a dream app as I understand which can help to evacuate the memory of your android device. You can empty out the memory of your android phone without deleting your favorite videos.
The Interface of Video Compressor Android App is simple beyond imagination and you can compress videos in only two steps. When you launch the app you find a small window fit only in the half part of the screen having 2 buttons.
You may like to read
How to Compress video using Video Compressor Android App
Open the app by hitting the icon as given in below picture on your Android device.

As the app opens you can see Input File, Output Folders Output Name and Compressed File Size (MB) options. Obviously you initiate with selecting the video you want to compress. So tap Browser Button around Input File option.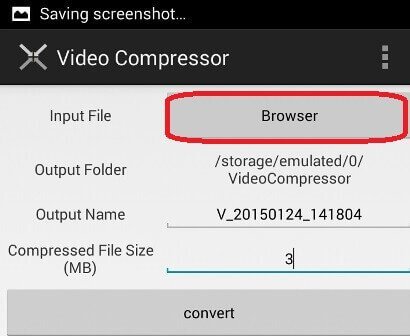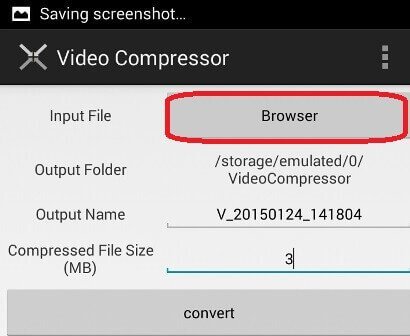 You will be taken to videos collection in Camera folder Where you need to tap the particular video you are going to select for compression.
The video comes to the lower part of the interface below Convert button. In front of Compress File Size option, write the size in MB.
Finally tap Convert button.
The app starts compressing the video. You can see it in the notification area.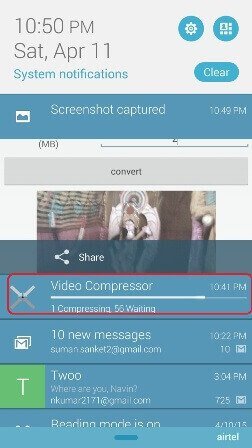 After a small period of time your video will be compressed in a tiny size.
Features of Video Compressor Android App
Small size and you can download it very quickly.
Too much simple interface to avoid complications.
You can compress any size of Video.
You are able to set the size of the file to which you want to compress your video.
Final Note
To compress any file to desired volume is a dream comes true. The app is too useful especially for the Android Phone which have less memory in it. Suddenly the memory of your Android device falls short then you can use Video Compressor and empty your loaded memory card. Video Compressor Android app is worth downloading. So download this app and compress video to the size you choice.
Video Compressor Android App