How To Connect VLC To DLNA Server to Play Media – At first I would like to clarify that I am using Windows 10 computer so I will write in this context. VLC allows users share DLNA server and play Video or audio file. Here VLC plays the role of DLNA Client and successfully stream the Movie, Song, Play, etc.
Way To Connect VLC To DLNA Server to Play Media Files
Double click on "VLC icon" on the desktop if the icon exists, otherwise type "VLC" in the search field of Cortana and click "VLC Media Player Desktop app" in the result section.
Click View menu on the menu bar and then on Playlist.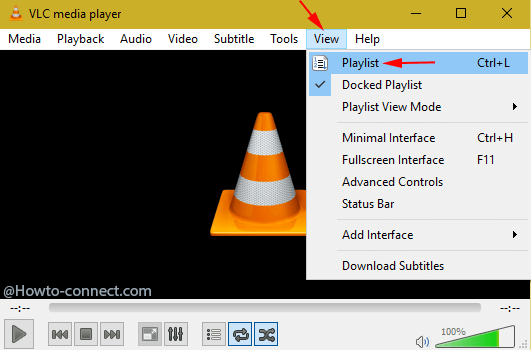 Playlist columns are available at the left side. Here scroll downward and look for "Universal Plug 'n' Play" and click on it.
VLC Media Player starts fetching the files enabled for media streaming in network you can see in the playlist box at the right side.
After a few moments, the Playlist shows the folder (Note that you must have to enable media streaming for the network prior to connecting to DLNA server).
Apart from this you can also view the media files one another way. Perform a right click on the "Universal Plug 'n' Play" in the right column and hover mouse on the "Playlist". All the available media files in the list.
You can see files in a hierarchy. Browse the folders to search for the file you like to playtime and again. Do a right click on the file and select "Add to playlist".
Sometimes you can see the list in the box vacant after finishing buffer for fetching the file, still wait for few minutes, since the VLC takes a considerable amount of time to locate the network.