How to Stop OneDrive Automatic File Upload When login to Windows 10 – The cloud storage renders to save data for the purpose of its utilization in the upcoming days. OneDrive in this concern, the inbuilt cloud storage for Windows 10, provides you a lot of facilities.
You follow either of two methods to accumulate files on OneDrive. The first method is manual sharing and the second is Sync the folders. To enable Sync settings is the ideal way to share your data to OneDrive and maximum users get its help.
But when you have gone with the enable sync setting choice you must have noticed that after logging into OneDrive on the web, the synced stuff begins to be uploaded automatically from Windows 10 machine. Here a shocking moment may come to you. For example, you have placed Gigabyte files in the location whom you have synced with OneDrive and you are not ready to bear your data expense on account of file uploading.  But you will witness nil data in your internet pack in this condition.
Two solutions exist to rectify this kind of condition – the first is disable the sync for the specific folder where you have lodged the files and the second is Stop OneDrive Automatic File Upload When login to Windows 10. We are here to elaborate the steps for the later solution.
How to Stop OneDrive Automatic File Upload When login to Windows 10
Login into your "OneDrive account".
Move the mouse pointer towards upwardly directed "arrow mark" on the taskbar and hit on it.
Look for a "OneDrive symbol" generally situated at the top right section of the arrived System tray. Perform a right-click on this symbol and the Expanded menu choose "Settings".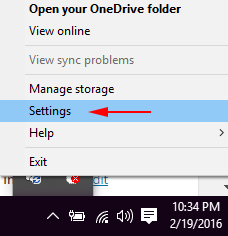 A OneDrive Settings wizard emerges on the screen which displays "About" tab by default, press the "Settings" tab here.
On the Settings, 3 boxes exist in which the first is just beside "Start OneDrive Automatically when I sign into Windows". Untick this box and hit OK at the bottom portion of the wizard.
After you tweak the settings your file will be inhibited from being uploaded itself to OneDrive. Although OneDrive will be still functional but you require to settling a file on your own effort if it is necessary one to be saved.