The whole world is fighting with COVID 19 right now and this invisible enemy has threatened millions of lives at stake. Where we always take help of social media or watch news channels to keep ourselves updated about this pandemic, most of it ends up causing unnecessary panic. That is why Microsoft came up with COVID 19 tracker Windows 10 App that collects information from reliable sources and shows real-time statistics, news, and videos about coronavirus.
COVID 19 tracker app is pretty user-friendly and supports in over 30 languages. You can track Coronavirus update, Cases, and deaths with numbers and graphs of all the regions in the world. For ease of access, it lets you save your desired location you want to keep an eye on. Furthermore, the application presents graphs and charts to see the new cases and compare regions and countries to get more insights. You can also get testing center information at a county level in US and India, besides, helpful information from local/state department of health.
COVID 19 tracker Windows 10 App
Here is how to download COVID 19 tracker Windows 10 App –
Navigate the official webpage of the named application.
Click Get button.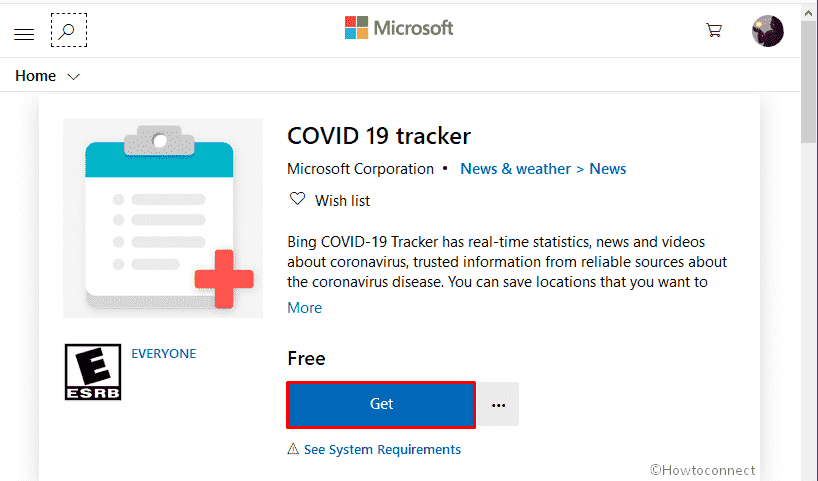 This will redirect you to a Microsoft store page that holds inside information of the app.
Again, click on Get.
Doing so will immense the downloading process.
After being downloaded, the installation will take place automatically.
Once done, you will be notified through a pop-up.
Click Launch button to open the tracker.
As an alternative, get access to Microsoft store directly from the Start menu and use its search function to look for COVID 19 tracker. Enter into the apps page and click Get button. Upon completion of download as well as installation, hit Launch to use the application.
System Requirements
Though Microsoft offers COVID 19 tracker Windows 10 app free of cost, some basic requirements must meet as prior conditions. They are –
The version of Windows 10 version must be equivalent to 10586.0 or higher.
System architecture must be compatible with either x86, x64, ARM, or ARM64.