Windows 10 2004 received a new build today to the early access channel. The update includes a tool for checking COVID-19 information in the enhanced audio control in Your Phone app. Additionally, many old issues are fixed and no new known issues are added.
As usual, Fast ring insiders can install Windows 10 build19619.1000 via automatic update.
Windows 10 Build 19619 20H2 Changelog
Here is Windows 10 Build 19619 20H2 Changelog –
Easy access to coronavirus pandemic info in your search box
The build shows a banner in the Search home to instantly access timely, trusted information about the COVID-19.
To get the updated details click on View interactive map that leads to Bing COVID-19 Tracker with the latest information. You can see the situation both globally and locally of each region. Furthermore, contact info for local and national health resources are also accessible.
You are also able to See headlines using the feature on COVID-19 module. This will launch the latest coronavirus news on MSN.
Microsoft has released this feature in 33 markets. If you'd like to dismiss it, choose the X in the right corner.
Your Phone app offers control over music and audio
Windows 10 Build 19619 provides you the ability to control your music and audio apps from within the Your Phone app. The audio tracks you are playing will persist in sync between your PC and phone, and you can switch between multiple sources using the dropdown in the player.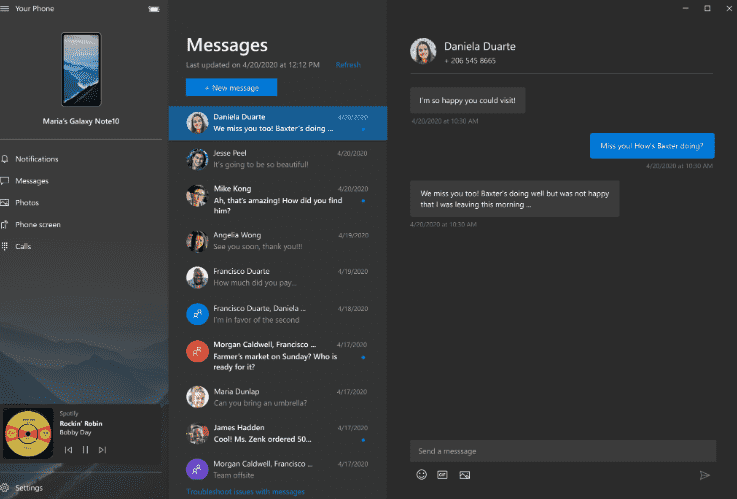 Key points
Enjoy and interact with the audio apps playing from your Android and iPhone.
You can see the title track info that is in sync with what's playing on your phone.
Apart from this you are able to control the tracks from your PC and use previous next play, pause buttons.
Switch among multiple sources applying the dropdown in the audio player.
requirements for Audio player control
Your PC must have at least Windows 10 October 2018 Update.
The phone must be equipped with Android 7.0+.
Apps that you are running are required to support media controls in their Android notifications. For example, the app like Google Play Music, Spotify, Pandora, Xiami Music, Amazon Music, YouTube Music, and Google Podcast support the features.
The built-in setting for Show audio currently playing from my phone will be enabled in the Your Phone app.
When you play Individual audio apps they will require granting notifications permissions on your phone. Follow the patch for the same – Android Settings => Notifications => select the audio app => turn Notifications on.
Known issues
One demerit of the feature is Some audio apps support Rewind Track and others Previous Track.
Currently, both of the YouTube video and Audible are not supported.
The feature will be available from Your Phone app (YPC 1.20041.82.* and YP version 1.20041.85 or newer).
Windows 10 Build 19619 General changes & improvements
If the Sync button for Synchronize your clock under Settings => Time & Language => Time fails because of network connectivity, the error now tells you that's the issue.
Fixes
Build solved error DPC WATCHDOG VIOLATION after bug checking in the last few builds.
Japanese IME unexpectedly shifts to Private mode even though the browser wasn't in inPrivate mode while typing in browser. The issue is resolved now.
Windows 10 Build 19619 resolved many Schannel errors that appeared in the System event log.
The update solved some unexpected characters appearing in the text strings of intl.cpl Additional Settings => Currency.
It also resolved fixed stordiag.exe crashing on launch problem. The issue occurred when you tried to open it while running a repro mode trace while filling feedback under the – Disks and Storage -context in the Feedback Hub.
Windows 10 Build 19619 Known issues
Microsoft Edge developers are knowing about some trouble when navigating and reading certain web content for NVDA and Narrator users. The issues occur in the chromium version and legacy Microsoft Edge isn't affected. NVAccess has issued a NVDA 2019.3 that fixes the known issue with Edge.
The team is analyzing update process hanging for extended periods of time problem during installation of new build.
Windows 10 Build 19619 has not yet solved Documents and Downloads sections under Privacy showing a broken icon next to their page name (only a rectangle).
Battery icon on the lock screen always displays close to empty, instead of actual battery levels.
Developers are examining IIS configuration being set to default after receiving a new build. As a temporary solution, take the backup IIS configuration and restore it after the new build is installed successfully.
Fast switching between WSL distros from the File Explorer integration could throw a transient access error.
Source – Windows Experience blog.