In this article, you will learn to create a shortcut to restart Windows Explorer in Windows 10 and 11. When you make some changes in Start, Taskbar, File Explorer, or anywhere using Registry, did you ever notice that the modification does not take place immediately? You need to either Restart Windows Explorer or reboot your system to see this. If you need to restart explorer.exe frequently then a shortcut may ease up your work to an extent.
There are multiple other instances when your system prompts a restart. Usually, this occurrence takes place when you install new software or update an already existing application or program on your PC. But surprisingly most of the time restarting your computer or logging it off and on is not necessary. Restarting Windows Explorer process (explorer.exe) is enough to accept the necessary changes. The most convenient way to Restart Windows Explorer is using the Task manager. That's definitely faster than restarting the system. But if you need to do the same regularly or simply prefer one-click solution then create the shortcut of the following process to fasten the work.
Create Shortcut to Restart Windows Explorer
Here is How to Create Shortcut to Restart Windows Explorer in Windows 11 or 10 –
Step-1: On your Desktop, right-click and then from the context menu, select New => Shortcut.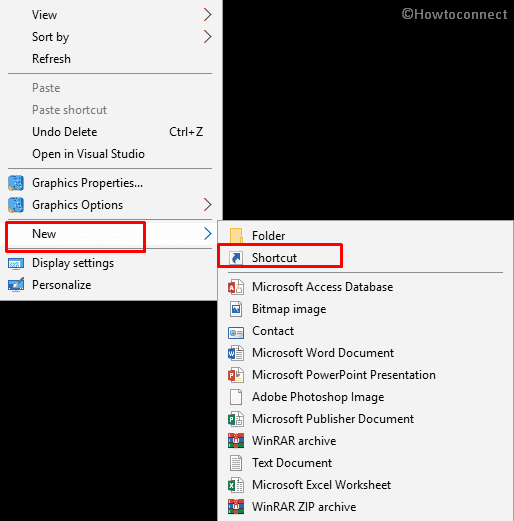 Step-2: In the box below Type the location of the item; write down the following command and then click on Next –
cmd.exe /c taskkill.exe /f /im explorer.exe && start explorer.exe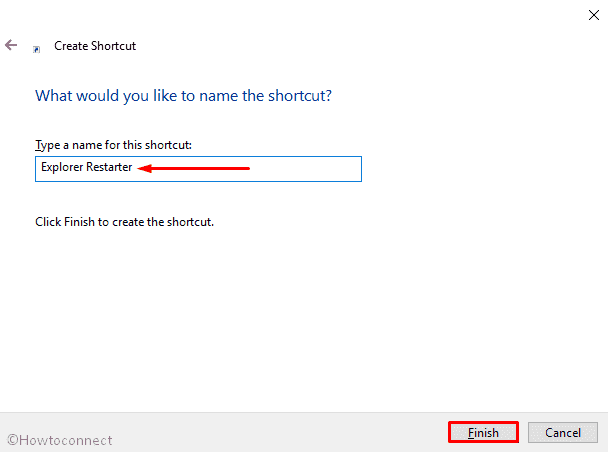 Step-:3 On the following wizard, give this shortcut a name such as Explorer Restarter and click on Finish.
Step-4: Go to the desktop and experience the Shortcut to Restart Windows Explorer.
When you run this shortcut, it will lead to the implementation of the taskkill.exe command. This will end explorer.exe, and after that Windows Explorer process will again start.
Some of the parameters used to Create Shortcut to Restart Windows Explorer in the command increase the curiosity. You might also be interested in knowing about them. So, follow –
cmd.exe /c – It runs the command which follows, then terminates.
/f – It forcefully terminates the local processes.
/im filename – It determines the name of the file you wish to terminate. Here, the name is explorer.exe.
&& – It adds another command in the end.
Restart Windows Explorer Using Task manager
Press Ctrl + Shift + Esc on your keyboard and let the Task Manager appear.
If it's not already expanded, click on More details.
Under the Process tab, Locate Windows Explorer and a click on it to highlight.
Move your cursor to the bottom right of the Windows Task Manager window and click on Restart.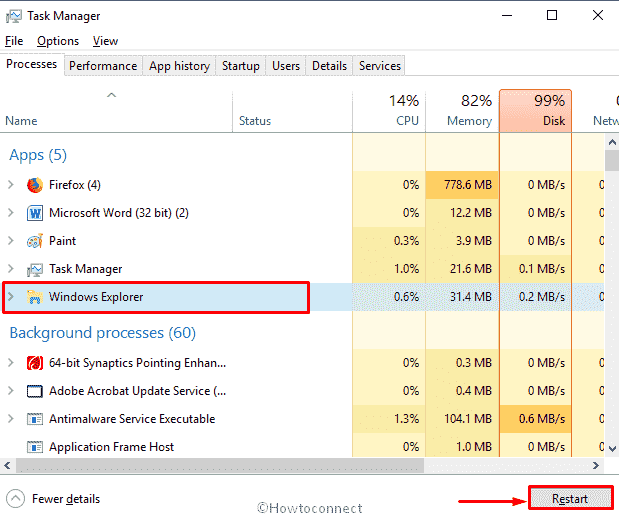 With just a few clicks Windows 11 or 10 will be ready with the desired changes and you will no longer need to reboot your PC Now, let's see how to Create Shortcut to Restart Windows Explorer in Windows 11 or 10.
That's all!!!