Cut the Rope Android App is one of the most popular game app all around the world. If you occupy Android device you might have played this game on your device. Basic logic of Cut the Rope game is quite smart. All you have to do is cut the rope so that you can feed candy to the little monster Om Nom. Om Nom is the little character which makes various face expressions once you touch him at different parts. If you slap him, he will start rotating. However, during the gameplay he shows only 2 expressions. One when he sees the candy coming to him means the smiling face and the other sad face when candy doesn't reach him.
Recommended: KeepInMind Windows 8 App – Improve Memory Power with Fun
The interface of this app is kept very simple. Feeding the candy to the little monster is not the only requirement of this game. You also have to take all the three stars as well before feeding Om the candy otherwise, you would get stuck after reaching certain level as the next level requires certain fixed number of counts where you had taken all the three stars before feeding the candy. Here, comes the main challenge as you have to take all the stars to complete one particular game and reach the next level. A screenshot of this game is shown below: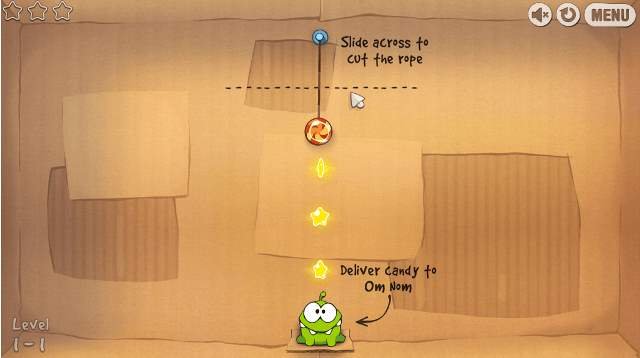 This game comes with innovative challenges and unpredicted hurdles to the candy chomping, physics-based phenomenon that has pleased huge number of players all around the world! It consists of different new characters who would help you in getting all the star candy in each and every game. They would also help you in completing tricky missions so that you achieve medal every time you play this game. It also allows you to challenge your friends online and play with them.
How to play Cut the Rope Game on Your Android Device
Once, you have installed this game on your smartphone, Om Nom escape from box and moves through dense forests, crowded cities, junkyard and underground tunnels, all in pursuit of one goal – CANDY. At first there would not be any character which would be helping Om but as time passes, it reveals new characters. You don't need to worry about their uses as this game will show itself the use of every new character in this game before they are launched. Along the way, Om Nom comes up against the Nommies, the cutest candy gathering colleagues a little green monster could long for! Just start playing this game and look out for what would be the easiest way to get all the stars and then reach to the mouth of little monster.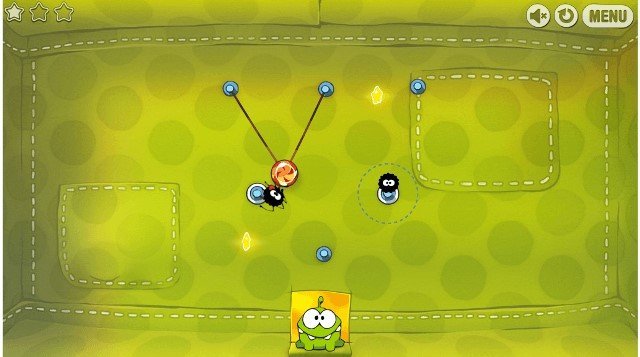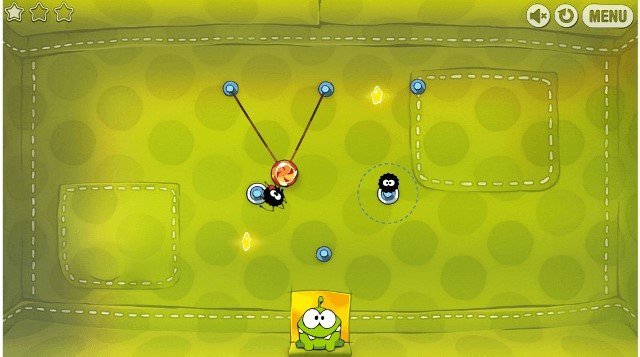 In the above screenshot, you can look out for various new characters which are helping OM in getting candy. There are many versions of Cut the Rope like free version, paid version and others. Start playing this game and collect gold stars, discover hidden prizes and unlock exciting new levels in this lovely physics based game.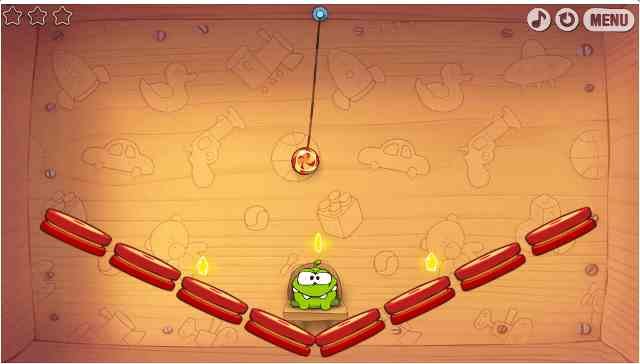 This is what you need to know before playing this game. If you have any query do ask us below.
Click Here to download this app