Snap Attack is a Windows 8/10 App to build words and compete with people all around the world in real-time. The player who makes the longest word will be champion. Snap Attack provides a leaderboard on which you find different letter tiles. Players have to connect letter tiles to make word snap. Longer word the player creates, more points he earns. After 2 minutes 30 seconds the game finishes and a chart containing leading 15 point taker prompts. Here you can search your name in top point earners. On every 50 seconds new game starts. In this way, Snap Attack is a real-time game to enjoy, increase the word power, and make global recognition as well. Playing the game also enhances mind power and word making ability.
Recommended: Kids Advanced Tutor Windows 8/10 Apps – Perfect Tool to Teach Infants
Launching this app prompts homepage comprising Rank and Stats, Frenemies, Help & Options, and About.
Rank & Stats demonstrates your performance in the word tournament with rich data and points.
Frenemies Tells points of your rivals.
Help & Options contain a tutorial (thorough guide) for how to play Snap Attack which will tell the whole story.
Snap Attack Application is Designed according to physics and mechanics theory which could present a platform for easy and interesting gameplay. A leader board contains 8 rows and 7 columns and total 56 blocks looks like a puzzle board. On this board you find movable letter tiles and word snaps.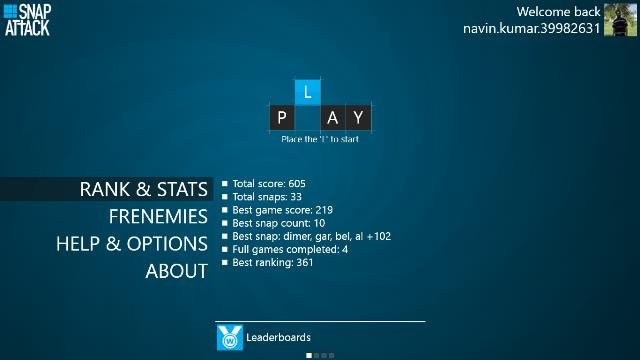 How to  Play Snap Attack Game on Windows 8/8.1/10
At first, a brief knowledge of a few technical words would be helpful. So have a look at:
Letter Tile: Since the letters are on square-shaped slabs you can say letter tile instead of a letter.
Word Tile: This is also applicable or word.
Word Snap: Word Puzzle.
Frenemy – Friendly Rival
To play game Snap Attack is very easy.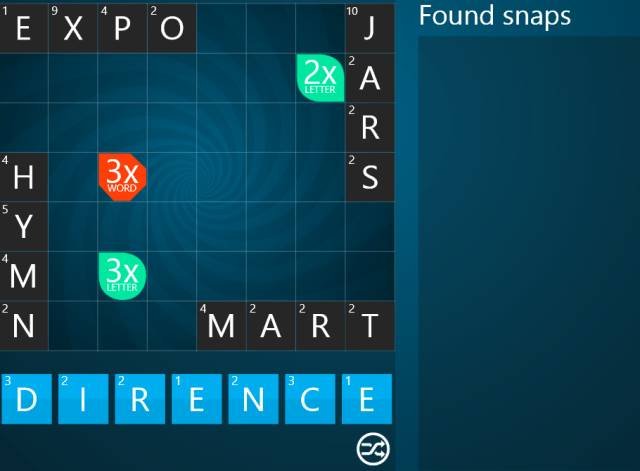 1. Download the app from the link given at the lowermost part of this post. After you install the app Click on L in PLAY and the game will start. Since the game is running globally, you have to include yourself in this game at first. When you are in game wait for a fresh start. After a while, a fresh game will start and here you should start playing.
2. A leaderboard comprising Few letter tiles will be displayed. On the bottom part of this board, you can see 7 letter tiles. Watch these letters carefully and think which word you can create using these letters and the letter tiles on the board.
3. Move these letters one by one at the right place on the board in a row or column in the way that assembling these letters plus a letter on the board whether it is in the beginning or end or middle could create a meaningful word.
4. Longer word you create more points earn. So always persevere to create longer word snap. Besides, you could create as many word snaps with these letters as you are capable to.
5. After 150 seconds game ends up and a list containing top 15 players with the points they earned and country where they live will open. This is a global list and you could search your name on this list.
6. Since each game is having 2.30 minutes So quick actions are recommended.
Snap Attack App Features
1. Snap Attack is the latest real-time game by Microsoft Studio popularly called Wordament Snap Attack.
2. In 2.30 minutes your brain gets enough exercise.
3. Players in the whole world play the game on a single board.
4. Tracks your performance and produces rich statistics in comparison with rivals.
5. A famous game for time passes along with satisfying creative passion.
Conclusion
Snap Attack Windows 8/10 App is a unique experiment you will love the most. The app proves to be a great game for those who are interested in puzzles. This is a real-time word puzzle with distinctive features that connect you with the people in the world. I hope you will enjoy Snap Attack.