AppRemover utility by OPSWAT is very useful for Windows and Mac users who are annoyed with useless apps occupying space. The utility uses the AppRemover SDK helps to delete security and public file sharing applications from your computers.
AppRemover is a free one-time usage utility that is available on PC (Personal Computers). System admins can license the command line interface if they want to integrate it with their developed apps for a particular app uninstallation or removal option.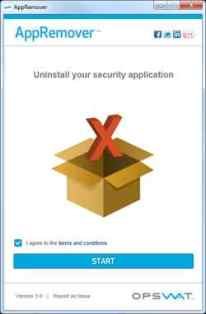 AppRemover is also built in the Opswat Gears Cloud, a cloud-based network monitoring and management solution. You can sign up for a free of cost Gears cloud account which can enable remote uninstallation of security software and also public file sharing applications from the Windows and Mac PC in your network.
This is particularly useful in the following situations as:-
If you are replacing one security app with another,
When rival security apps tie up to your computer,
If the app's built-in uninstall fails.
If you have forgotten app password.
If you want to remove a public file sharing app.
AppRemover which can be downloaded for free on the internet has been scanned for malware or virus by more than 40 antivirus engines on the metascan online. Also, it has received numerous awards from web publications as CNET, etc.
Download AppRemover utility