For those who have a small or medium size business, Ezy invoice software is a very useful invoice tool for them to use. It's not only a billing software but actually an Invoicing, Accounts Receivable and Inventory program. It doesn't matter whether you sell retail, wholesale, or render professional services. Any kind of business may have the use of Ezy invoice.
Let's have a look at what Ezy invoice offers –
With Ezy invoice, you can have more customers as it gives a more professional look to your business. You have the option to customize quotation, invoices, credit, and debit memo along with delivery, packing lists, customer statements, etc. Also, the documents can be printed as PDF/ mail attachments.
It's possible that you have a customer, vendor or inventory lists that are present on the Microsoft Excel, CSV, etc. You have the option of easily importing them to Ezy invoice.
If you are a trading firm that has an inventory then it may be that you are selling either 5 line items or even 5 thousand items. You maintain different price levels for various customers. If you want to know immediately that how much a certain item has been bought by one of your customers or what amount of stock are you left with then Ezy invoice should be the answer to your queries.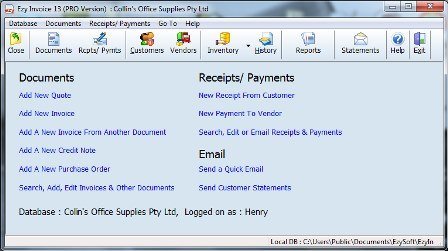 Ezy invoice is kept up to date with the tax regulations. So it has support for Regional State sales tax (USA), GSTm (Australia, Newzealand, Singapore), GST/PST (Canada), VAT (India, South Africa). You also have the choice of defining your own tax type and the rates as they are in your country. You can design your tax rates keeping in mind what items are taxed in your country and what are exempted.
You can also have more than one tax type for your invoice. If you work for the government and collect taxes and issue bills on their behalf then you can use Ezy invoice to print an elaborate tax report for correct reporting to your government.
Ezy invoice also helps you include "tax-exempt" export sales or even "tax-inclusive" sales in your bill as required
With Ezy invoice you are free to customize your invoices and documents. You can use blank paper or even before hand-printed letterheads. Insert a logo where you want or even add/remove the address block in the invoice as your need may be. You may have already printed many invoices before having installed Ezy invoice. In such a case you can customize all positions in the invoice layout to match your previous bill design. Ezy invoice supports many layouts for a single document. Have a different layout for email invoices and another for printed ones where you require a signature.
Ezy invoice supports many paper sizes. You may insert the special terms and conditions part in your invoices. If you find it unnecessary to design a separate layout for your bill then you can just use default design templates.
Ezy invoice maintains an accurate database of all the invoices and billing statements that you issue. You can view any invoice by simply entering the invoice number or even customer name. You can view detailed monthly, 2 monthly or 3 monthly reports or even annual reports for your sales figure. See the sales/debtors for 1 customer or many. This helps you monitor your business growth by analyzing your sales figures. The data is also presented in a graphical or pie chart form.
For the outstanding debts from any customers, the Ezy invoice gives a detailed aging report of the particular debt of the customer along with his/her contact number so that you may give them a reminder call. You can also send them a reminder statement with the details of the debt attached. These statements can be mild for 30 days overdue or firm statements for 90 days overdue customers. These can be sent to one or many customers at a time.
Ezy invoice can be used on network with up to 30 users working simultaneously. With usage in network you can know when a particular person created an invoice and for whom,who edited it, and when. You can set limits to the actions as a particular person can only add or edit invoice but never delete them.
Most importantly Ezy invoice is for those beginner businessmen who should spend more time organizing and expanding their business than spending enormous hours doing paperwork. This also allows you to save a lot of time and spend it with your family.