Difference Garden Midnight is a Windows 8 App. This application contains a puzzle game in which you will find 2 Beautiful garden images looking alike. The images seem to be highly identical. All you have to do is to spot differences between these pictures. There are total 60 levels to accomplish. In each level, you have to trace out five differences between two pictures. The game contains 60 levels and each level is difficult than earlier. If you are stuck somewhere you can take hints as two hints are provided at each level. There is no time limit to finish game level. Difference Garden Midnight application improves visual and analyzing skills to a great extent.
Recommended: Microsoft Treasure Hunt Windows 8 App – Play Adventurous Puzzle
How to use Difference Garden Midnight Windows 8 App
1. Install Difference Garden Midnight Application from the link furnished below this post or own it from Games Category of Windows Store.
2. Succeeding the installation, click on the "Start" button to begin your game.
3. Find out differences between the two pictures.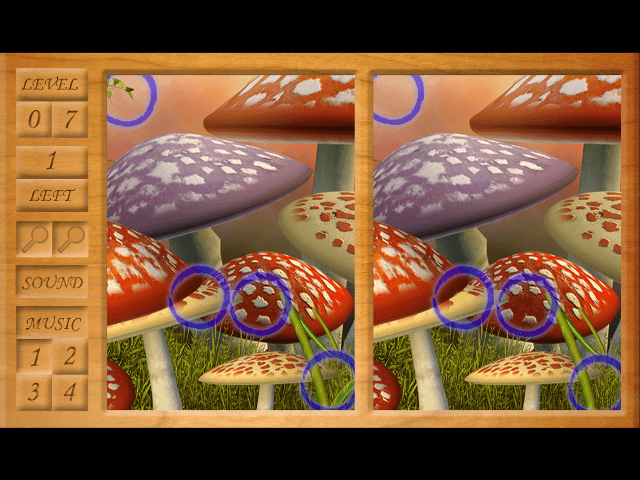 4. Click on the differentiated areas and blue circles will highlight the differences.
5. Click on the "Magnifying Glasses" when you are stuck with the differences.
6. You will be helped with two hints only.
7. Find out five differences between the images and finish the level. After pointing five differences you are promoted to the next level.
Click on "Continue" button to go to the next level of challenge.
Click on either buttons (1, 2, 3, or 4) provided below the "Music" option to change the music.
Difference Garden Midnight Windows 8 App Design
Interface of this application is very pleasant to eyes. You can view different scenes of beautiful nature. The differences between the two pictures are very minutely created. The application also has nice sound effects.
Difference Garden Midnight App Features
Its' absolutely free of cost!
Beautiful music to play on.
300 differences to find on.
No time limit to finish the level.
Closure
Difference Garden Midnight App is a nice puzzle game to time pass and improve intelligence as well. Don't think that it is a very easy game to finish off quickly. In fact, this is one of the most difficult puzzle that you have ever accomplished. Spotting the difference between two pictures is very easy but the pictures are highly identical to see. The application will improve your analyzing and visual power to a great extent too. So install this application and improve your visual skills.
Get Difference Garden Midnight game app