How to Activate Internet Banking in Canara Bank – All nationalized banks and few private banks offer Internet Banking facility to its customers. Internet banking allows users to money transfer, view account summary and detail, transactions and a lot more online without going to Bank. Canara Bank also avails Internet Banking to the customers who have their account in CBS Branch. There are 2 ways to activate Netbanking in Canara Bank.
By submitting the application to the branch where you have account and
Through online Process.
Here we will Guide to activate Internet Banking in Canara Bank in both ways.
How to Activate Internet Banking in Canara Bank
1. Through Bank Branch
Go to the branch of Canara Bank where you hold your account and request for Application Form for Internet Banking activation. If you choice you can download the form by clicking this link:
Fill up the form carefully and put up to the bank branch. In few days, you will get user id and password.
2. Through Online Netbanking user creation
To activate Netbanking in Canara Bank through this process, you need to register mobile number. You simply get your mobile Number by visiting the branch you have. Apart from this, you can register yourself through Canara Bank ATM.
After then click here.
Click on I Agree Button at the bottom. A new page will open like the screenshot below: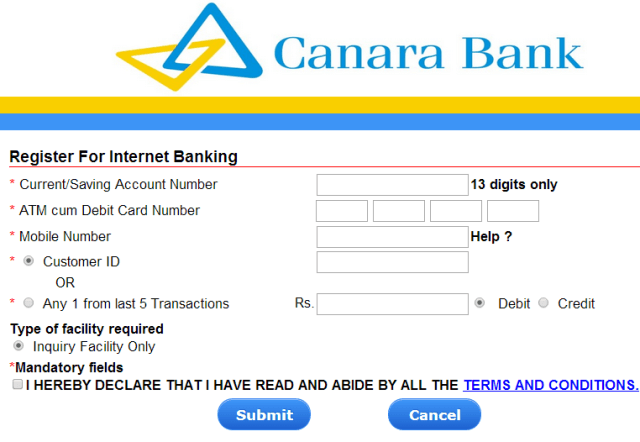 Write 13 digits Account number and ATM cum Card Number. Write your Registered Mobile Number. Note that your mobile number must be followed by 91 if you are an Indian. For NRI, it should be followed by 00 and Country Code. Write Customer ID or last transaction amount (anyone from last 5) and put a tick the box against Terms and Conditions and click on I Agree button. Follow the steps instructed further.
In this process, you will get user id and password by SMS on your Mobile Phone instantly which will be used at the first time login.
First Time Login After NetBanking Activation in Canara Bank
After you Activate Internet Banking in Canara Bank, the first task before you is to make a login to the account. For this click on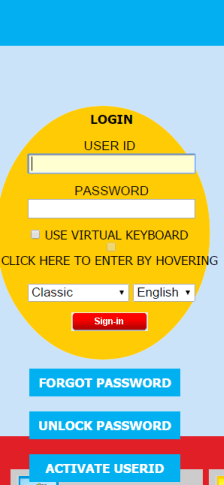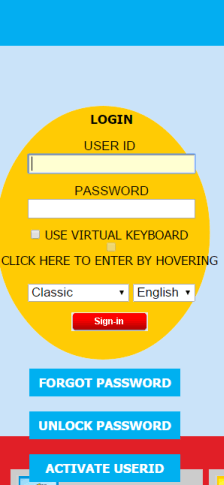 Write your user id and password in appropriate boxes and click on Sign in button.
Change the password and write your own password and remember it.
After successful logging, you will be carried to Account Summary page. Account summary contains balance in your account. In the right side of this page, you find previous login date and time of the account, change password options.
After you Activate Internet Banking in Canara, you will be able to check your balance, transfer funds to Canara bank account and other banks account as well, Pay tax, loan amount, bills etc.
If you are getting trouble in logging in, make sure that you are using correct user id and password first. If you are not getting solution on contact customer care number.
Customer care number of Canara Bank is 18004250018.
We hope this article will help you to activate internet banking in Canara bank.