Windows 8 presents several high rated built-in security features to restrict it from others. In this context, I have already written windows 8 PIN password to sign, hide system drive with registry, picture password and etc.
Incorporate or professional sectors, the first priority of a user is to protect his private data of hard drive partitions. windows 8 has exhorted and put a right solution to prevent access to hard drive partitions in simple mode. As a result, a new security feature of Windows 8 provides option to restrict particular hard drive partitions without any third-party software so that other unknown users could not access it without permission.
How to disable Access to Hard Drive Partitions in Windows 8 PC
First Step
Firstly press shortcut (Windows key + F) to bring up the Search and type group policy in the search bar and click on Settings option.
Next, a search result is displayed in the left side and click on edit group policy icon.
Second Step
Here expand the following options one by one according to below screenshots.
First of all, click on User Configuration option on the left side and then double-click on Administrative Templates option.
Next click on Windows Components option and search for File Explorer from the list view.
Third Step
Once File Explorer option is selected on the left side, you will get several settings options in the right side.
Now double-click on Prevent access to drives from My Computer option in the right side and open it.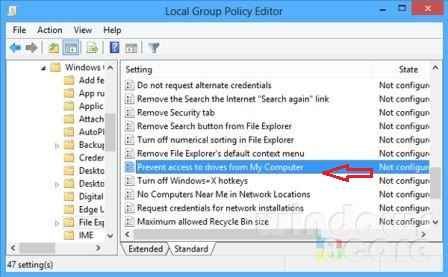 A new pop-up window will show with same option title. Here check the tab of Enabled and then choose the particular hard drive partition or all which you like to restrict from others.
At last click on OK button after selecting the preferred hard drive partitions.
Thus, no one can browse the hard drive partitions in windows 8 laptop or desktop until you disable the restrictions settings again. In order to check out new settings, click on the restricted hard drive partitions from computer explorer windows, a warning message would be prompted at the middle screen.