USB Storage device often indicates security vulnerability within every windows version. Because using it, the chance of virus attacking or data theft could be done simply by unknown users. So, some windows users want to block his USB port on laptop or system to protect valuable data. In windows 8, a user can disable USB Port on Windows 8through simple registry setting.
Note 
Using this registry setting, it will only disable USB storage devices like pen drive, external hard disks and mobile USB connector. But it will not block USB mouse, or USB keyboard or USB Printer Port.
How to Disable USB port on Windows 8
First Step
Go to start screen and highlight search charms from right side.
Next type regedit in the search bar and click on same titled icon from left search results.

Second Step
Then a new window named Registry Editor brings up on the screen.
In left side, Click on HKEY_LOCAL_MACHINE and click on SYSTEM.
Next select the option CurrentControlSet and click on Services option.
Now click on USBTOR option. Here go to right side window and double-click on the START option from list panel.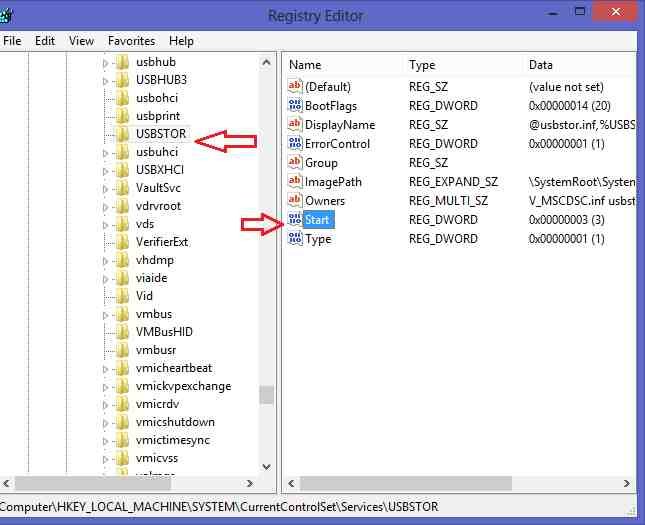 Third Step
A new tab named edit DWORD (32 bit) value appears.  Now set the value to 4 under Value data tab.
At last click on OK button and exit to registry editor window.
Thus, in your Windows 8 system you will disable USB Port on Windows 8 after configuring this registry setting. To undo this setting or enable USB, follow the above mentioned same steps and change the Start DWORD value as 3.