If Windows 8 users want to perform Reset, Refresh, or has the intention to fresh install of Windows 8 then first priority is to take backup data of all installed app. In fact, After installing apps on the Windows 8 system, there is no option to change the path or backup the app data. For this purpose a software Windows 8 App Data Backup is available.
Windows 8 App Data Backup is handy and freeware software which provides the importunity to the windows 8 user to back up the data from the installed apps and restore it again as it was. keep in mind that the software can only backup data and not app.
Note
The Microsoft Dot NET Framework 4.5 Version should be installed on the windows 8 system to run the software.
 How to access Windows 8 App Data Backup Software?
To backup app data on windows 8, at first, make certain that all the apps are stopped before accessing the windows 8 app data backup software.
The software shows the name of all installed windows 8 apps on the main interface along with Backup and Restore button.
Now check the tab to select the desired apps in list one by one or click on select all button to take backup of the entire app data quickly.
Then click on Backup Now button and set the target location with the purpose to save in specific computer drive or USB or cloud.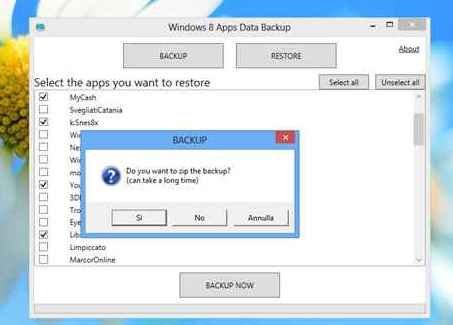 Download Windows 8 App Data Backup