You may find the built-in Windows theme to be little dull and boring. If that's the case, then downloading Lightning Strikes Theme for Windows 10 will be a great idea. This theme empowers you with 13 beautiful images combining pictures of electrifying firebolts light up land, sea, and air. The awesome collection of Mother Nature's power pictures are worth setting as your desktop wallpaper.
Nature, as we know, is, in reality, a place of wondrous things. The forces of nature collide giving a sense of perfect storm. The photographs provided in this theme are captured during the night time storm taking the brightest point of lightning. The images of this theme are for wallpaper purpose only. It provides a close look at Mother Nature's power in the form of a different set of pictures. In sum total, this app is a combination of different wallpapers covering the effect of lightning on air, land, and sea. So, what are you waiting for, go through the following steps and grab these amazing images!
How to Download Lightning Strikes Theme for Windows 10 and use
How to Download Lightning Strikes Theme for Windows 10 –
Angry sky spreading phenomenal lights which shine the horizon by featuring dark gray clouds are probably something which you will always admire as your Desktop background. That's why you shouldn't miss this theme and download them right now on your PC.
Here is the complete setup on how to download Lightning Strikes Theme and set it as wallpaper on your Windows 10 Device.
Step-1: First of all, click on the Microsoft Store icon that occurs on the taskbar (see snapshot).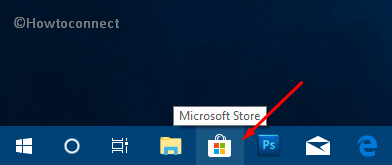 Step-2: Here, go to the search box and type Lightning Strikes Theme. Once the application appears in the result, click on it.
Note: If you cannot find the app in Microsoft Store, navigate this page to get the theme.
Step-3: When the app opens up, click the Get button and let the download of the theme begins.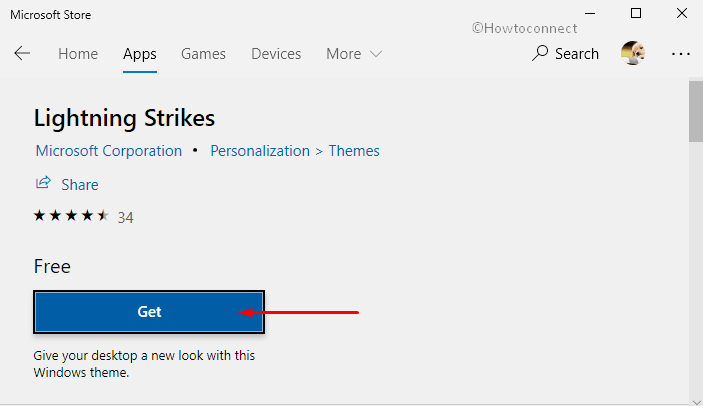 Note: You may encounter a new dialog asking you to sign in to your "Microsoft account". If so, then put the credential information like Gmail, Skype or phone and hit Next button to go further.
Step-4: After installing the theme, switch to the desktop. Perform a right-click on the blank area and select Personalize (last option) in the context menu.
Step-5: This will open Windows Settings, click Themes on the left column. Switch to the corresponding right pane and select Lightning Strikes as shown in the picture below. Finally, go to the desktop and enjoy the stunning lightning images.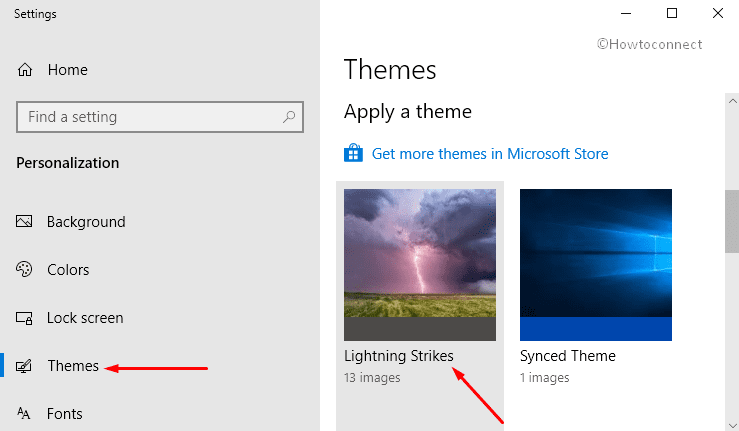 System Requirements to use Lightning Strikes Theme in Windows 10 PC
This is a wonderful creation by Microsoft to make your PC's screen look amazing. However, there is a minimum criterion condition for this app which you need to know.
Lightning Strikes theme in Windows 10 supports English (United States) language.
The app consumes very less memory (approx. 14.58 MB) of your system. So, ensure to have this little amount of space on your computer.
To use this app effectively on your computer, ensure to run at least Windows 10 version 14951.0 or higher.
This theme is compatible with almost all architecture means x86, x64, ARM.
Hopefully, after reading this article you will be able to get a clue on how to decorate your desktop with these natural feelings of darker images with contrast background.