If you have decided to remove the built-in cloud from windows 10 Download OneDrive Uninstaller as it works very easily. OneDrive is a well liked Microsoft-vetted service for cloud organizing and sharing. A Windows 10 user knows that OneDrive is actually integrated with the latest version. When it comes to remove the cloud, this OS version doesn't offer a way so users are looking for a tool In this connection. See one more article How to Enable / Disable OneDrive Usage in Windows 10.
OneDrive Uninstaller helps you to uninstall this service from Windows 10. This is a lightweight software that helps in turning off and removing the OneDrive app with almost no effort from your side. Follow a similar guide How to Pause Syncing in OneDrive for 2, 8 and 24 Hours.
Download OneDrive Uninstaller
Step 1 – Reach Github to download the package from the official servers.
Step 2 – Execute a right-click on the downloaded zip folder and go ahead with Extract files option. You can see another folder with the contents of OneDrive Uninstaller in it.
Note that this utility needs administrator rights to accomplish the jobs.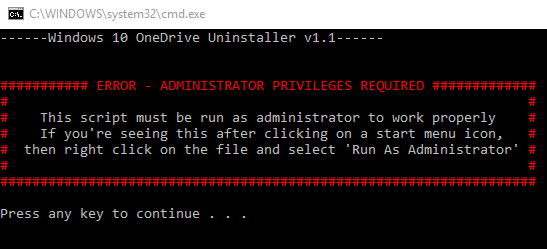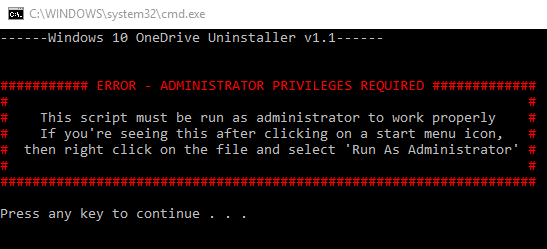 How to Use OneDrive Uninstaller
Note – Ensure that the moment you run this specific script, your access to the existing OneDrive account will break. In addition, running the script will also delete the locally stored files on your device.
Step 1 – Run the script by right-clicking on the bat file and choosing the option namely Run as administrator.
Other Tips
Conduct a right-click on the bat file and out of various options locate and click Edit. This action unfolds the contents in the plain text editor.
Step 1 – Then read the script line by line to ensure how to work.
Step 2 – As it is a plain text script, there is scope to modify it as well. Make the required changes in the script to get the correct results. This software helps in these following cases.
It terminates the OneDrive process.
Checks for the bit of the OS (32-bit or 64-bit).
Launches the OneDrive uninstallation process.
It removes the remaining OneDrive folders and Registry keys after uninstallation.
Step 3 – The another way to run this utility is running the command individually. This is so because it gives you better control.
The second method of running the commands individually is helpful in removing the leftover folders or Registry keys.
Final note
Therefore download OneDrive Uninstaller if you need to disintegrate and delete OneDrive from Windows 10. You see that utility is a very simple one and easy to handle. But the only point to be cautious is that after deleting the OneDrive it is not possible to retrieve it back.