Text Dragon is a small Windows application that runs in the background and lets you drag and drop text from one application to the edit box of another. This app cares for the format and provides 3 options "Text", PDF, and HTML while dropping.
You can perform the same job in File Explorer window, or the desktop keeping the formatting.
How to Download Text Dragon and use on Windows
Download Text Dragon
Download the application, run and install. You will see the red "Text Dragon" icon in your system tray next to the time/date.
Step 1 – Select text on a webpage, then click, clasp, and drag to desktop. When you let go you will see a popup menu asking for a File type. So choose one from TXT, HTML, or PDF and that's all.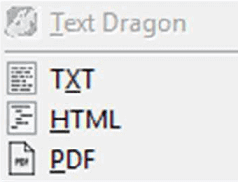 Step 2 – You can also drag and drop text to an edit box of another application. While executing this task you will see a popup menu that says "Paste Text …". Click that.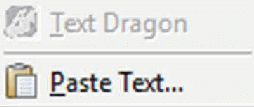 Important: You may see the 'NO' cursor (see image below) when dragging text to a window that does not natively support the drag/drop. This is normal when you quit the mouse button you will still view the menu and be able to perform the necessary action.
Follow a similar guide – How to Paste Clipboard Content in Desired File Format.
Text Dragon Settings
To get to the Settings window, right click on the Text Dragon tray icon and select Settings.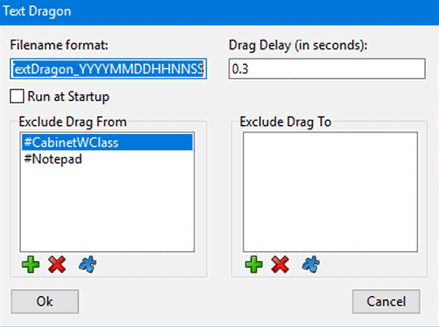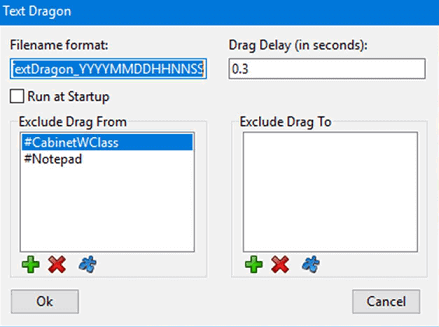 Filename format
Step 1 – You can modify the default file name pursuing the preference you have created when dropping text to a File Explorer.
You can change this to whatever from date/time format using the following:
YYYY = Full year e.g. 2012 YY = Two (2) digit year
MMMM = Full name of month e.g. November MMM = Abbreviated month e.g. Nov
MM = Month number e.g. 05 DDDD = Full name of day e.g.
Monday DDD = Abbreviated day e.g. Mon DD = Day number e.g. 11
HH = 24 Hour time HHH = 12 Hour time
NN = Minute (not MM as it is for Month)
SS = Second AMPM = AM or PM based on current time
So, for example, you can change it to NewFile_HHMMSS_YYYYMMDD and the resulting file name when using TXT would be something like NewFile_011203_20170101.txt
Drag Delay
This allows you to set a Drag delay for when Text Dragon starts. This is helpful if you are quick to select and don't want to drag/drop any. The time is in seconds, the default is 0.2 of a second.
Run at startup
You can make the Text Dragon application Run at startup using the Settings dialog.
Excluding windows
In the settings dialog, you can exclude windows as the 'Drag From' or the "Drag To" if needed. There are 2 windows added by default to exclude 'Drag From'. Those are File explorer windows and Notepad.
To add a window, you can click on the green + button and enter the window title, class name, or ID. If you haven't remembered the title, class or ID you can click on the blue "puzzle" icon and then click on the window you want to exclude, it will grab and add the class of that window. Windows can sometimes include the same class name so using the window title would be best in that case.
Final note
Therefore these are methods you can download Text Dragon application and use its settings and features to Drag and Drop Text in Txt, PDF or HTML on Windows. This tool will give a pretty good experience when you exercise copy paste work. If you have any questions or comments please inform in the comment. Enjoy!