To provide an extra layer of security to the Internet sharing feature, you should sometimes Edit Network Name, Password for Mobile Hotspot in Windows 10. The network details are sensitive and can be easily tampered. So, if you are at a public place and need to share your Internet with colleagues and friends, then edit the hotspot details. In this concern, you may like to Setup Windows 10 Mobile Hotspot and Connect Devices to It.
Although Windows 10 sets comparatively a strong password for Mobile hotspot that comprises of letters and numbers. But at the same time, the OS also gives you an option to edit its password and name. However, every user has its own reason to Edit Network Name, Password for Mobile Hotspot in Windows 10 OS. For reference, you can follow our another related tutorial to Copy Network Properties to Clipboard in Windows 10. Mobile hotspot is an old feature of Windows but the ability to use it directly from Settings application was possible after Anniversary Update only. So, ensure that your PC is running version 1607 or higher to avail the below series of steps.
Edit Network Name, Password for Mobile Hotspot Windows 10
Step 1 – First of all, open Settings application to Edit Network Name, Password for Mobile Hotspot. To do so, open WinX menu and click Settings. Instead, pressing Windows & I keys altogether also opens the application.
Step 2 – Click Network & Internet tab when Settings home page comes into view.
Step 3 – Click Mobile Hotspot on the left column of the next page. Now, on the corresponding right page of Mobile hotspot, click the Edit button as shown in the given screenshot.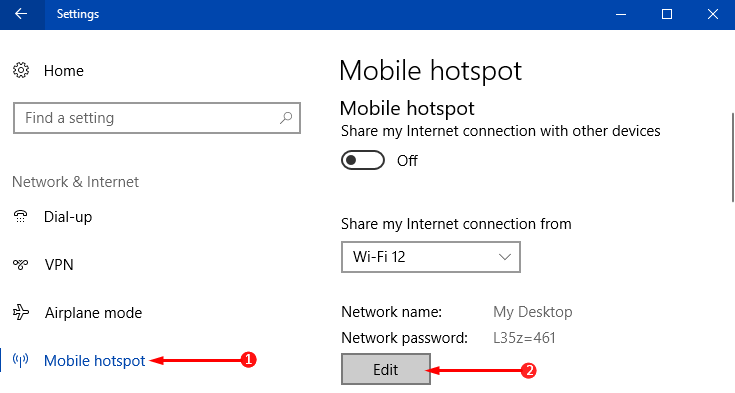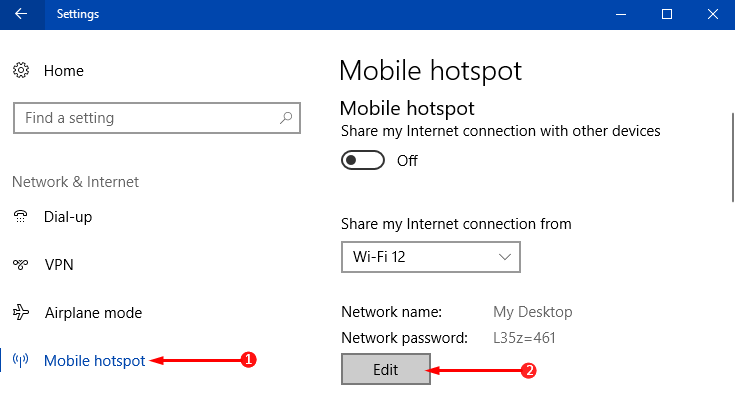 Step 4 – Remove the current Network name and input something of your choice. Moving ahead, edit the Network password also. After editing both the Network options, perform a click on the Save button to implement the changes.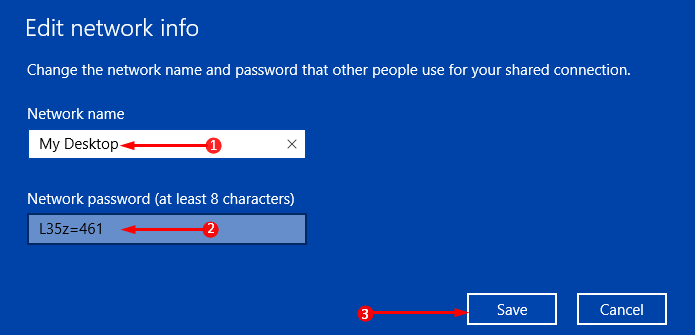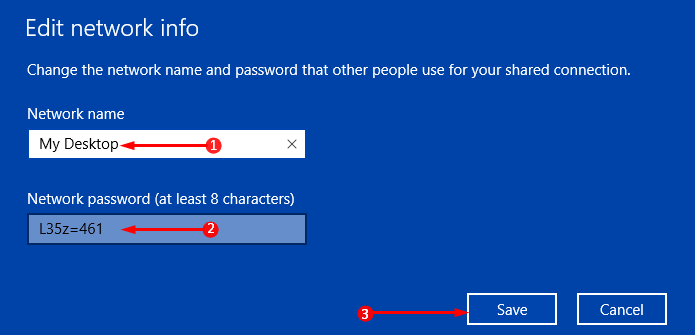 Step 5 – That's all! Now, in the Mobile hotspot page, you can notice the new Name and Password.
You may prefer to learn How to Edit IP Settings for Network Connection in Windows 10.
Conclusion
Hence, in terms of security, it is very necessary to time and again Edit Network Name, Password for Mobile Hotspot. And hopefully, with the above steps, you can now keep editing and configure Mobile hotspot settings. This was really tough in the older versions of Windows but with Settings application, customizing the network settings has become very easy.