Today, several varieties of video editing apps are used to modify existing video clips in awesome lookup. Almost each windows version or fresh mobile OS like Android presents integrated video editing feature. Recently windows store has brought an excellent and vast feature-loaded video editing app for windows 8 named Cinelab. The functionality of Cinelab app is wonderful because it is simple to modify presented video clips to MP4 format within minutes and save to drives instantly.
Related Posts –  Format Converter X App – Convert Video and Audio in windows 8
How to Download Cinelab app from windows store?
Start search charm panel in right corner and type "cinelab".
Next choose store button from drop-down list and press Enter key.
From the search pages, choose the app and then select Install option.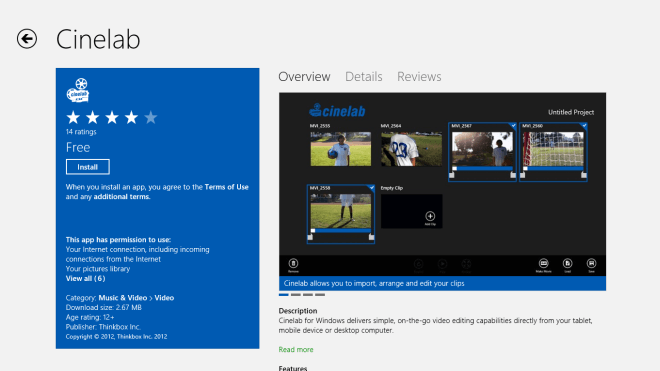 Features of Cinelab app –
You will be offered with simple and straightforward dark UI in Cinelab app. Firstly, the app prompts only a single tile called "Add Clip" option in right corner. While you click this option, it asks to add another video clips in type of tiles.
The interface also includes three additional buttons at the underneath which perform roles as follow –
1.   Play –  It begins playback of the chosen video like a live tile.
2.  Rewind – The Rewind button launches the selected video from the beginning. 3.
Review – The Review button plays the selected videos in full-screen style.
In app settings section, you can change video, and audio quality, set usual video bit rate in Kbps.
How to Edit Video Clips with Cinelab app on windows 8
 To edit particular video clip is quite trouble-free with Cinelab app. The chosen video clip explains a mini slider pop-up so that you can crop your preferred video part. You can pull any video clip left to right or vice versa with the purpose of changing the sequence of the last clip.
As soon as you press right-click at anyplace on the screen, you prompt several controls button at the bottom like Select All, Remove, Make Movie, Save and many more.
 The Save button facilitates to save your video editing projects and Make Movies button starts the conversion procedure.
Remarks –
Even Cinelab app is present as freeware app at windows 8 store, but it supports maximum of 7 clips in order to merge video clips. To add additional video clips, you will have to buy its license pack.