Maximum email clients let you read email in HTML format by default.  It is risky for your email account while you open the email attachments without virus scanning, because these attachments contain several dangerous items like virus, worms, and trojans or malware. The HTML code or scripts of HTML format are hidden in the email page. As a result, malware can be downloaded simply once you open the attachment for viewing an email. If you think about email security then email clients have provided security option too. In this situation, you can read the emails in plain text instead of HTML format. Here, I will discuss some ways to read emails in plain text in different email clients. For example, Gmail, Outlook.com and Thunderbird.
Note – Yahoo Mail Service doesn't come with plain text mode.
How to Read Emails in Plain Text on Gmail
In Gmail, you will not get a clear button for viewing your email in plain text. To enable Plain text feature,
At first, open any email in the browser after making -into your Gmail account.
Open the email you want to read.
Click on the down arrow button nearby Reply button at the left corner.
Then click the Message text garbled? menu from appearing drop-down menu panel.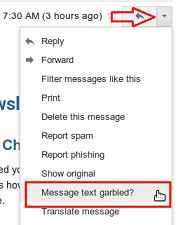 Next you will get a new window and find the entire email content in plain text.
How to Read Emails in Plain Text on Outlook.com
In the new Outlook.com email client, you need to follow only single step to read email in plain text.

Click on the Actions link and again click on View message source option from the drop-down panel.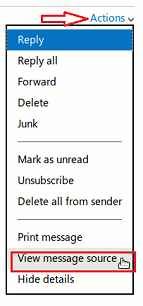 Next scrolling the source code from first to a last edge.
Then you would be capable to read the entire email content in plain text.
How to Read Emails in Plain Text on Thunderbird.com
In Thunderbird email service, you can read emails in the plain text simply. To do it,
Click on View menu from the menu bar and select Message Body As option.
Then you need to click on Plain Text option in another menu panel.
Now your selected email content will now show in plain text mode immediately.