On Monday the UK based PCbundler launched Windows bundle, by which one can get a Windows App for just $29 instead of $215. In order to check the lacking of windows based packages, the PCbundler creators did so for the ease of users.
A number of advantages are provided to the users, who are willing to get the newly developed offers from the PCBundler. They will receive top selling windows software which includes TuneUp Media (which is also free from the Rewards software), PC keeper, Video Convertor Pro, Audio recorder, Switch (also available on Reward Software), Phototangler, and Password Fighter.
Not only this, but the users can also buy different software or rather Apps individually. Like, TuneUp media is popular app for organizing the music and brooding over it, which normally comes over a price of $49.95. PC keeper, a $39 dollar tool that provides a range of software like disk cleaner, anti theft tool, an uninstaller, a duplicate finder, antivirus and more are offered by PCBundler.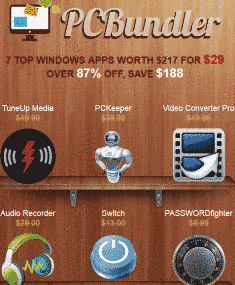 Moreover, it provides a package which offers a discount of 87% on the normal trade prices, and the licenses are also provided to the buyers regarding their programs. Most of the apps which are supplied in the bundles are also loaded with free trail which is helpful for the buyer to check it promptly and then late use. It will also help the user to gain information regarding  whether he should purchase or not
This bundle is only available up to 6th May, so one should be in hurry to get it before it gets away from the market.