Procedures and Steps to Enable Metered Connection for Ethernet on Windows 10. – If you are running Wire connection with a limited data plan then Windows 10 offers you a special Setting. You can set the Ethernet connection as metered and check out the data expense. With the effect of Windows 10 Build 15002 for insiders this arrangement of metered connection for Ethernet network has taken place. Previously this feature was available for Wireless connections so far.
If you subscribe limited data plan for a cable connection and require additional control over data consumption, enable metered for that network. Few applications might behave differently to cut data usage when you are connected to this network.
Windows 10 will not let obtaining the update files whenever you are on a metered Ethernet connection. Even some people use this setting to Stop Windows 10 Update in Progress.
You cannot update Store apps on Metered Connection for Ethernet.
You will unable to share updates with computers over the Internet during being on the metered connection. Using the built-in nature, Windows 10 restricts file sharing and thus lessens the bills.
In a similar fashion, Live tile won't receive updates so while as you are contented with this kind of network.
Other applications might work in different ways as per suggestions on the settings. For ex., downloader apps could stop downloading, bulk file upload might be retarded.  But there will be no difference with Desktop applications such as browsers like Chrome, Firefox, software like CCleaner, TeamViewer and other will get regular update.
When you take a power plan for your LAN connection based on the cost of confined data you need to care for its expenditure. Else, you have to immediately pay after data expense cross over the limit. Get the help of the guide here –
Enable Metered Connection for Ethernet on Windows 10
Step 1 – Click Win & I altogether and select Network & Internet from the Settings program.
Step 2 – In the right pane of the appearing settings, select Ethernet. As the right pane of Ethernet Settings loads, click on your Network icon.
Step 3 – Your Ethernet settings open up so locate Metered connection. Pull the slider towards On mode.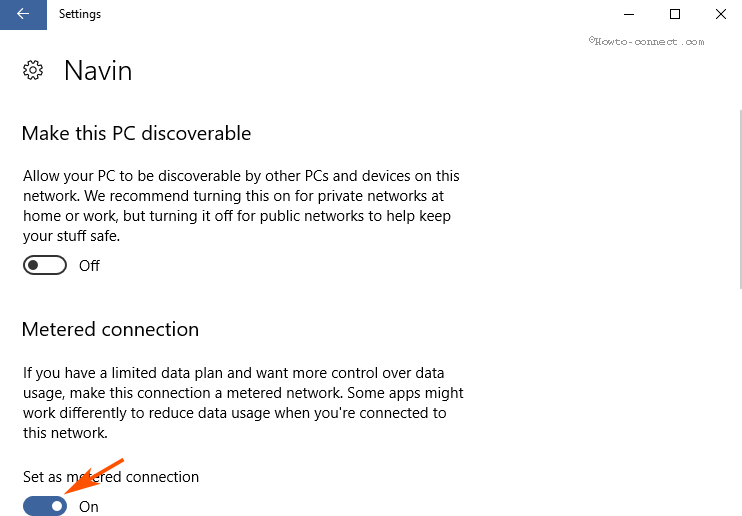 Disable Metered Connection for Ethernet on Windows 10
2 ways allow you to disable Metered Connection for Ethernet on Windows 10. Dragging the sliders toward the left i.e. in the left will turn off the metered status of a network.
In addition, if you Reset Network Settings the ethernet connection will become normal.
As said, you Enable Metered Connection for Ethernet on Windows 10 you restrain the bandwidth utilization on your computer. So if you are taking access to such a service provider that cut your pocket calculating the quantity of data then this setting is a proper chance for you.
Winding up
The methods to Enable Metered Connection for Ethernet on Windows 10 are pretty easy. Once you change the settings you will be able to handle the data consumption according to the amount of the data getting according to the taken plan.